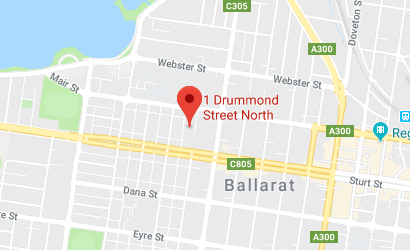 Ballarat Base Hospital
1 Drummond St North,
Ballarat Central VIC 3350

Phone 03 5320 4000
Open in Google maps
Find out more about services at the Base Hospital.


Designated short term patient drop off and pick up areas are located at each entrance of the Base Hospital, in Sturt Street, Mair Street (Emergency Department) and Drummond Street.


Bus stops are located immediately next to the ward block of the Base Hospital on Drummond Street and on the corner of Sturt and Drummond Streets (outside McDonalds and Shell). For information on bus routes and timetables visit CDC Ballarat.


The V-Line coach service to and from Warrnambool stops at the Sturt Street bus stops (outside McDonalds and Shell).


Wheelchairs are available at the Base Hospital Drummond Street and Sturt Street entrances.