Grampians Health Ballarat offers a mixed emergency department, caring for both adults and children. We care for all genders, ethnic and cultural backgrounds, and we are open 24-hours-a-day every day of the year.
In an emergency contact 000
If you are unsure whether you need emergency care, consider making a phone call first - you may be given the advice and guidance you need to stay well at home.
You can contact:
Nurse on Call on 1300 60 60 24
The National Coronavirus Helpline on 1800 020 080
Urgent care, when it isn't an emergency
Those seeking urgent medical care when it's not an emergency now have access to a Priority Primary Care Centre (PPCC) in Ballarat.  
PPCCs are GP-led services that aim to reduce demand on emergency departments by providing an alternative service for non-emergency conditions. 
Please let your family and friends know about this new service, which is located at 4 Windermere Street, Ballarat. For more information visit: https://ufsmedical.com.au/our-clinic/ppcc/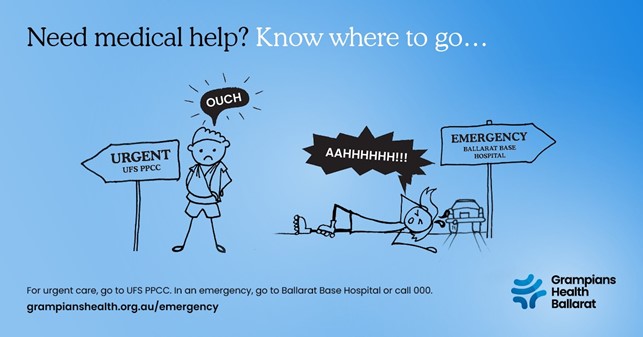 ---
What do we do in the Emergency Department?
The Emergency Department (ED) has a total of 43 treatment spaces made up of:
Triage area
Resuscitation cubicles
Acute cubicles
Minor injury / fast track
Short-stay unit
What can you expect when you visit ED?
When you arrive at the emergency department, please go straight to the triage nurse, where you will be 'triaged' (categorised) by a nurse.
Patients will be treated in order of urgency; this ensures we attend to the sickest patients first.
You may be asked the following questions by the triage nurse:
Previous health problems
Current medications
Recent overseas travel
Allergies
If you are pregnant or breastfeeding
Any other relevant information you think we should know about
You will be seen by a doctor as soon as possible. In certain circumstances our medical team may be attending to a life-threatening condition in the department. This may result in an extended wait time.
PLEASE DO NOT EAT AND DRINK WHILST WAITING
Often, prior to seeing the doctor, you may be assessed by a senior nurse who may arrange for blood tests or x-rays and provide you with medication. This helps streamline the system and ease some of your symptoms/pain.
How can you access this service?
People can walk in off the street and we also help people arriving by ambulance.            
The two entrances are different, so although the waiting room may look empty, we may still have a full department.
Are there appointments?
The Emergency Department does not make appointments. Our unit aims to see the sickest patients as a priority.
At times, we may ask you to return at a set time for review or follow-up. We will try to see you ASAP.
We do not give advice over the telephone and cannot provide information about waiting times, as this can change within minutes.
We can refer you to a nurse on call if you want medical phone advice.
Ballarat Base Hospital
Location
1 Drummond Street North
Ballarat VIC 3350
Phone
Opening Hours
24 hours a day every day of the year

In an emergency contact 000
Non-emergency care options
For non-emergency medical attention, you can: 
GoodSAM app
GoodSAM is a free global smartphone app that alerts responders to someone nearby in cardiac arrest. GoodSAM is linked to the Triple Zero (000) communications centre, so as soon as an ambulance is dispatched, a GoodSAM alert will notify you.
Have something to tell us? We welcome all feedback from patients, family members or carers. Tell us more.