Timely Emergency Care Collaborative
Grampians Health is one of 14 health services across Victoria selected to participate in a Department of Health funded project – Timely Emergency Care Collaborative (TECC).
The TECC project runs until June 2024 and aims to improve timely access to Emergency Care for people seeking care at Grampians Health by implementing strategies to commence improving system-wide patient flow.
In working to achieve this, customised improvement strategies will be deployed in the Emergency Department and the Inpatient wards of our Horsham and Ballarat campuses, in addition to also carrying our collaborative cross campus work to streamline organisational communications influencing patient flow.
Over the project duration, Grampians Health will be seeking community input which will then be integrated into improvement strategies.
Meet the team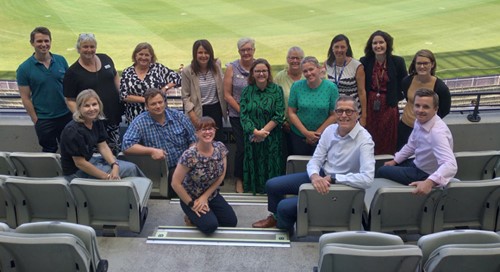 Some of our wonderful Grampians Health team who will be working towards improving access to timely emergency care.
Back left: David Kerr (Horsham Social worker), Jenny Vague (Horsham Acute ward NUM), Denise Fitzpatrick (ED/ICU cross campus director), Odette Richards (Horsham ED NUM), Kate Pryde (Deputy COO –East), Deb Chapman (Ballarat ANUM), Kylie Chou (Dept. Health Clinical Advisor), Eleanor Sawyer (Dept of Health Improvement Advisor),Tamara Sproull (Ballarat ED Deputy NUM)
Front left: Nadine Hoffman (Horsham patient flow team), Chris Ebersohn (Horsham Director Medical Services), Hannah Ryan-West (TECC Project Co-ordinator), Kerrie Shiell (Ballarat Director Continuing Care), Sarah Walter (Ballarat interim Access Manager), Philip Sabien (Horsham Improvement & Innovation Advisor), Ed Ritchie (Ballarat General Medicine Head).
Contact us
If you would like to share your experience of your recent visit or stay at Grampians Health Ballarat, please email tecc@gh.org.au
Have something to tell us? We welcome all feedback from patients, family members or carers. Tell us more.