Wellness Round Footy raises funds for our Ballarat Regional Integrated Cancer Centre Wellness Centre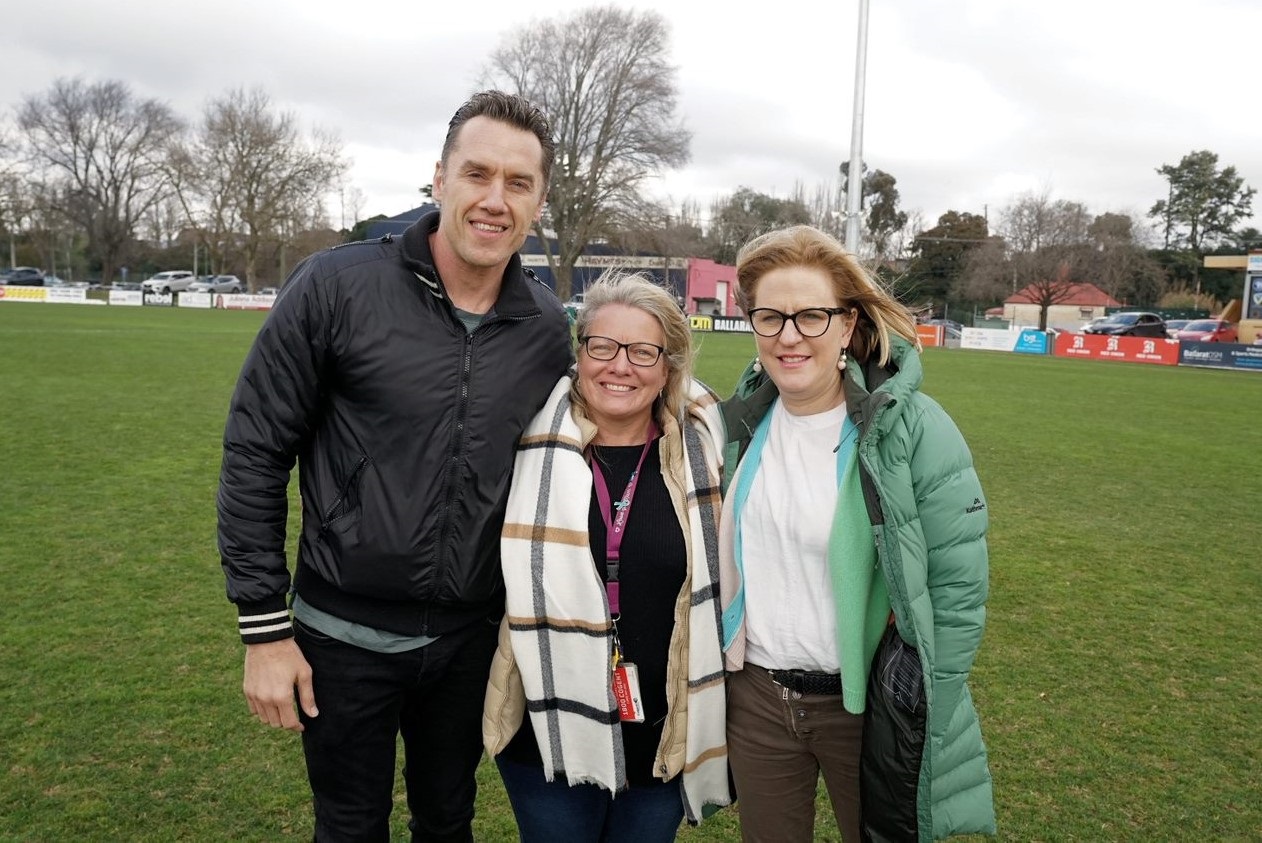 On the weekend of 23 July, East Point Football Netball Club hosted a special Wellness Round and Sponsors Day to raise funds for the Ballarat Regional Integrated Cancer Centre (BRICC) Wellness Centre.
East Point FNC hosted their first Wellness Round in 2017, and this year fought it out in a nail-biter game with North Ballarat at Eastern Oval. The day started with the two teams forming a guard of honour for BRICC patient, Jodie Hodge, who performed the coin toss. AFL Legend Anthony Koutoufides spoke on the day to a packed house of sponsors. East Point took the win.  
Kellie Pearce, Community Events Coordinator for Grampians Health Ballarat was delighted to see the Wellness Round return for the first time in three years.  
"It was so lovely to be back out in the community talking about our amazing Wellness Centre. The Wellness Round is something we are delighted to have back after the last few years of disruptions. It is a great way to raise the profile of the BRICC Wellness Centre and the services and support they offer. I'd like to say a huge thank you to East Point and North Ballarat for supporting us. We are looking forward to hosting and growing this event next year." 
Nearly $3,000 was raised on the day through raffles, donations and a Wellness Centre stall. The raffle was a huge success, with six major prizes donated by Bunnings Delacombe, G.Gay. & Co Mitre 10, and Davies and Rose Creswick. Woolworths and Bake & Grind donated treats for the Wellness Centre stall. The day was also a great opportunity for Grampians Health Ballarat volunteers to be back on board helping out with community events after two years of suspensions due to the pandemic. 
Simone Noelker, Wellness Centre and Pastoral Care manager, highlighted the importance of community fundraising to the Wellness Centre.  
"Anthony Koutoufides was a wonderful guest speaker who spoke about his father and how cancer affects all of our lives. The Wellness Centre is a valuable resource for all cancer patients in our community, where we provide a welcoming space for patients with cancer and their families.  We also offer a range of education seminars, support groups and one-on-one advice sessions," Ms Noelker said. "However, as we are 100 percent community funded, we rely on the generosity of our community to provide our services. Our programs are all free of charge and available to all cancer patients in our region, regardless of where they are having treatment. We are very grateful to all of the East Point and North Ballarat supporters who helped us raise these much-needed funds."  
If you would like to host a community fundraising event for the health service, please contact Kellie Pearce on fundraising@bhs.org.au or phone 03 5320 4093.