Team Grampians Health riding in the Murray to Moyne Cycle Relay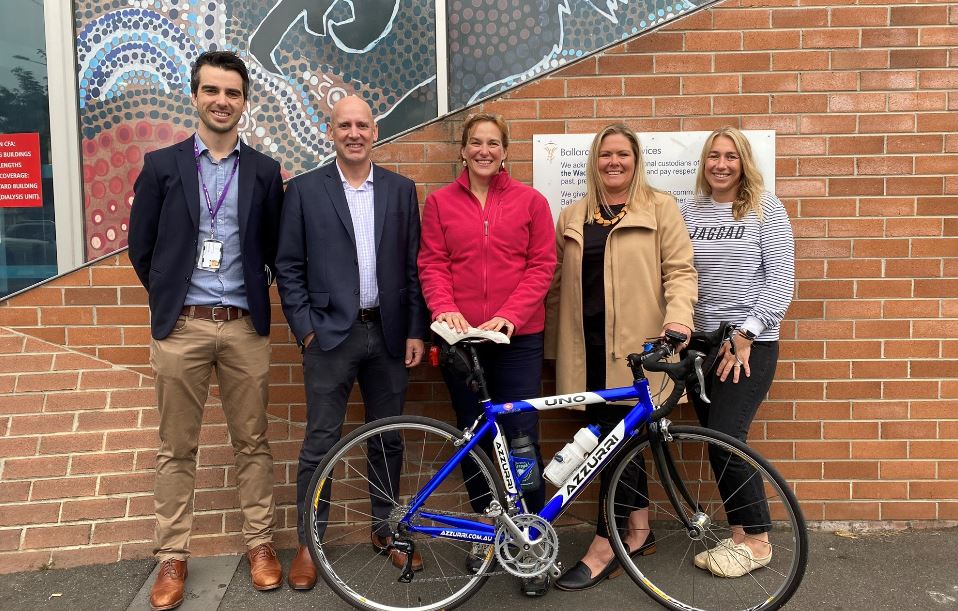 Grampians Health cyclists Jarrod King (Ballarat), Chris McQuie (Ballarat), Sarah Masters (Ballarat), Sara McDonnell (Edenhope), Jess Nelson (Edenhope)
Teams from Grampians Health Edenhope and Grampians Health Ballarat are coming together to ride in the Murray to Moyne Cycle Relay to raise funds for their respective health services. Team members were delighted to meet up in person to share training and race weekend tips ahead of the 520-kilometre-long relay in early April.
Sara McDonnell, Team Captain of the Edenhope team, has ridden the Murray to Moyne at least eight times.
"Edenhope have always been part of the Murray to Moyne Cycle Relay." Mrs McDonnell said. "My first Murray to Moyne was actually when I was at boarding school in Ballarat nearly 30 years ago, but even back then I rode in the Edenhope team." Mrs McDonnell said. "One of our team members, Sharkey, has ridden every year for the past 21 years. He's incredible and is a wealth of knowledge about the event."
"Every year, we raise funds to help purchase equipment the hospital needs. This year, our team are fundraising to purchase a trio bike for our aged care residents and older community members. Once we purchase the bike, we'll be able to have volunteers take these older people out for some fun bike rides as well. In the past we've helped fund a lot of projects, including exercise equipment, solar panels and extend our Elsie Bennett Community Centre to include a gym."
Sarah Masters, Head of Fundraising & Engagement at Grampians Health Ballarat has signed up for her first Murray to Moyne Cycle Relay.
"I've always been a keen cyclist, and I thought this could be a great way for the different Grampians Health campuses to come together. While we haven't been able to convince our colleagues in Stawell, Horsham or Dimboola to take part this year, we hope they'll join us next year!"
"This year we are raising funds to establish a 'WardRobe' which will provide new and appropriate clothing to patients in need. We regularly see patients who need new clothing. They may have arrived at the hospital due to an accident and their clothing may have been cut off. In other cases, people who are admitted due to drug and alcohol issues or a mental health crisis typically don't have personal items with them. They arrive with only the clothes they are wearing. Our 'WardRobe' will help provide dignity to these patients."
Grampians Health was formed on 1 November 2021 through the amalgamation of Edenhope and District Memorial Hospital, Stawell Regional Health, Wimmera Health Care Group and Ballarat Health Services.
One of the keystone decisions in the amalgamation was ensuring that fundraising or donations raised by a local community will be dedicated to improvements within that community.
If you would like to support the Edenhope team please contact Sara McDonnell saram@edmh.org.au. If you'd like to support the Ballarat Team, please visit ghb-murray2moyne.raisely.com/.