Tax Appeal delivers state-of-the-art Newborn Hearing equipment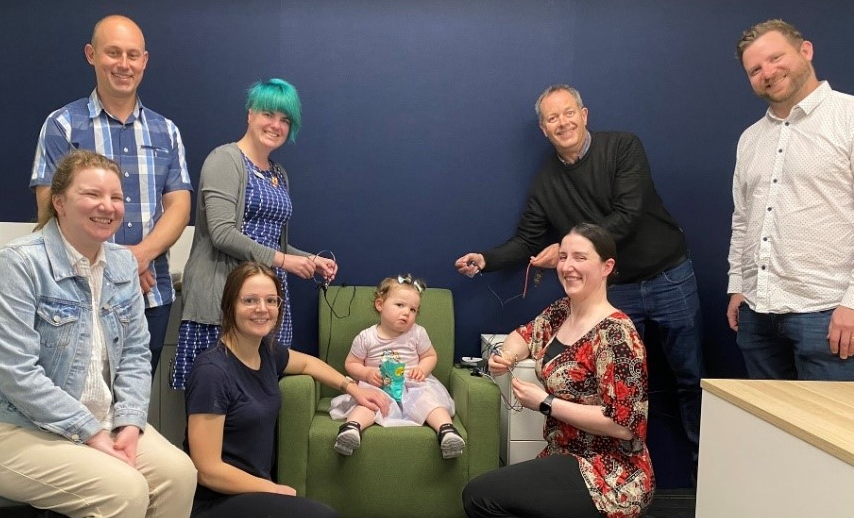 The Audiology team try out the new equipment with patient Molly and her mum, Grace
Last June, we asked our community to donate to our annual tax appeal to Give the gift of sound. We are delighted to announce our Newborn Hearing diagnostic equipment has arrived in Ballarat.
This equipment means we can now provide the most detailed diagnosis of hearing loss for our youngest patients.
From Craig Wilding, Chief Operating Officer Community and Aged Care:
"In late 2022, our old newborn audiology equipment failed. However, thanks to the generosity of our donors, we were able to receive the new equipment within a matter of weeks. This meant that families in our community could access newborn audiology services without the additional stress of having to travel to Melbourne or Geelong for diagnosis.
We are very grateful to our community who have helped us keep this important service right here, in Ballarat."
From one of our Audiologists:
"When a newborn baby presents with potential hearing loss, it is crucial that they are diagnosed within three months. We need babies to be treated as young as possible so they don't miss the opportunities to learn speech and language. This gives them the best possible outcomes in life. 
This new, state-of-the-art equipment not only helps us with the initial diagnosis, but allows us to provide incredibly detailed information to program their first set of hearing aids if they are required. It also allows us to identify if the hearing loss can be medically treated.  
Thanks to the generosity of our donors we can now conduct incredibly sensitive tests, simultaneously and in both ears at once, which also makes the testing faster – this is especially important as babies must be asleep for the testing to occur!" 
Thank you again to all our donors for helping us deliver world-class health care to our community.