Super Sunday vaccinations for Year 12 students
Wednesday 8 September 2021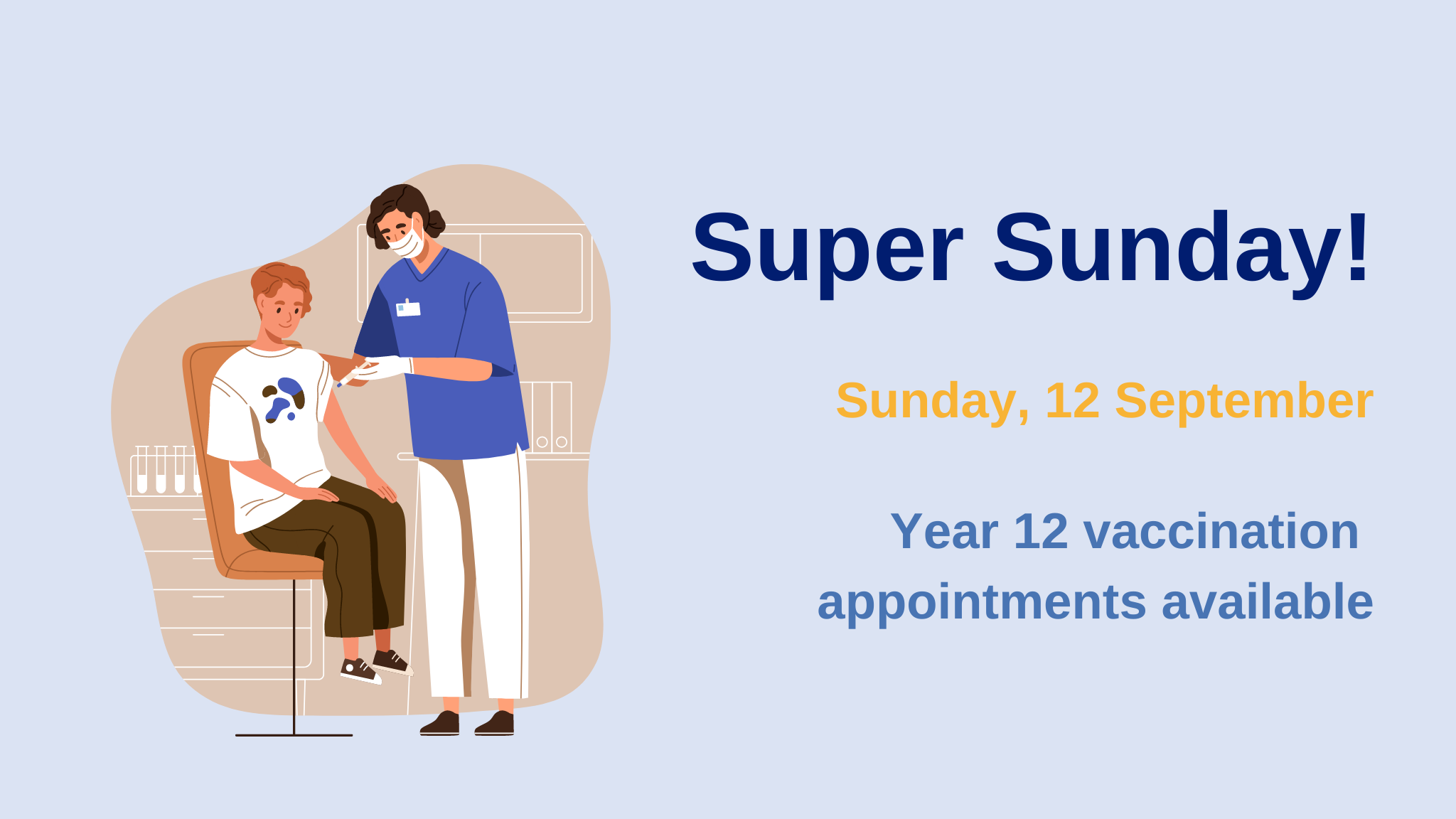 Students - book your COVID vaccination for Sunday 12 September, as part of Super Sunday.
As part of the vaccination blitz for final year students, the following people are eligible to book an appointment for Super Sunday: 
all Victorian Certificate of Education (VCE) students undertaking Units 3/4 subjects 
final year Victorian Certificate of Applied Learning (VCAL) 
International Baccalaureate (IB) students 
teachers who support final year school students 
VCE exam supervisors and assessors that support final year school students 
When: Sunday, 12 September 2021 
Where: The Mercure Convention Centre, 613 Main Road, Ballarat 
How to book: your school will have booking information.
There is no need to re-book or change appointments if you already have an existing appointment. 
Trained medical professionals will be on site to answer any questions you may have. A parent or guardian is welcome to attend the appointment with their child to ask questions, however if you have significant concerns your GP may be better placed to discuss in knowledge of your medical background. 
You can also join a free webinar on Thursday 9 September, 6-7pm. Registration is via this link. Topics covered include: 
Vaccines, development and safety 
Accessing and consenting to a vaccination 
How to book an appointment 
Q+A with the panel. 
This event will be held via Microsoft Teams Live. For access information, visit attend a live event in Teams. 
Can't make it on Super Sunday? 
There are specific appointments still available for Year 12 students throughout the Blitz, please try and book an appointment for another date during this time.
If you are 16 or 17 years old, you are eligible for Pfizer. 
People aged 18 to 59 years are eligible for Pfizer and AstraZeneca. 
Bookings are preferred; however, walk-ins are accepted for AstraZeneca at the Mercure – please see website for walk in hours. Pfizer is available by appointment only.  
Information on how to book, clinic hours, and eligibility can be found at bhs.org.au/vaccine