Santa Dave gets a new sleigh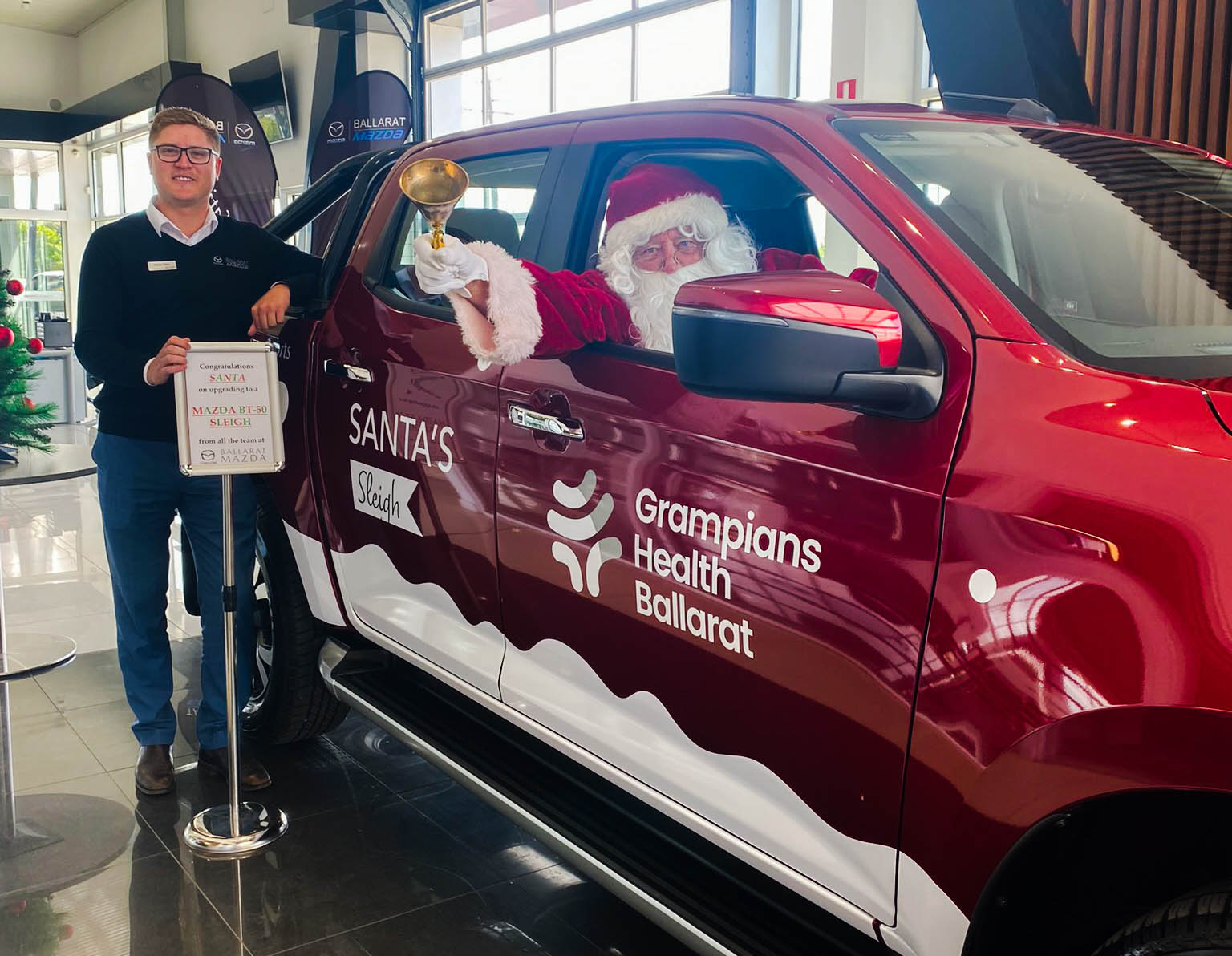 Beloved Ballarat Base Hospital Volunteer Santa Dave (Dave Keene) was presented with a new 'sleigh' that will be used to collect donated toys and gifts at Ballarat Mazda on Thursday 2 November 2023, 9:30 am.
Ballarat Mazda have generously donated the use of a brand new, red, Mazda BT50 Dual Cab ute to allow Santa Dave to collect donations from over 40 Ballarat businesses. The donated toys and gifts will be given to Ballarat Base Hospital patients during his annual visit to the hospital in late December. 
Ballarat Mazda has also provided a generous offer to all Grampians Health Staff, including donating $500 from every new Mazda sold to Grampians Health at Home Paediatric Program. 
Santa Dave was excited to collect his sleigh.
"Mazda have been so generous in customising a new ute for me to use to collect donations around town. Every year, I clock up hundreds of kilometres visiting over 40 local businesses, and my old car just isn't up to it anymore!" Santa Dave said. 
"Mazda's generosity is really appreciated, and they are joining a large group of Ballarat businesses who help me spread Christmas cheer to people who have to spent the festive season in hospital." 
Santa Dave, who is returning to Ballarat Base Hospital for his 13th year, explains why he continues with the tradition. 
"I spend a lot of time at the Base. For 40 years I have been receiving treatment for Crohn's disease. Volunteering as Santa allows me to show my appreciation for all the care I have received from the health service. As I attend the hospital every six weeks as a patient, I see a lot of people who are worse off than me, and if I can cheer people up with a visit from Santa, that makes me happy." 
Nathan Tinker, Sales Manager at Ballarat Mazda, says that partnering with Grampians Health Ballarat and Santa Dave was a way of showing their support for the health service.
"On behalf of Ballarat Mazda, we couldn't think of a better way to show our support of the Ballarat community than partnering with the health service we all rely on. Santa Dave does an incredible job of spreading Christmas cheer throughout the hospital to adults and kids alike. We can make his job of collecting donations from local businesses that much easier with a new sleigh."
Mr Tinker described a further generous offer by Ballarat Mazda for Grampians Health Ballarat and their staff.
"At Christmas time, we all want to put a smile on kid's faces, especially those who have to spend the holiday season in hospital. But as an ongoing commitment to children's health, for every new Mazda purchased by Grampians Health Ballarat Staff we will donate $500 to their hospital in the home program for children (Grampians Health at Home Paediatric Program) to help children be cared for in their home. We're also including a $500 Accessory Voucher and 10% off scheduled servicing for all staff purchases."  
Sarah Masters, the Head of Fundraising and Engagement at Grampians Health Ballarat, acknowledges the generosity of Santa Dave and Ballarat Mazda.
"In my role, I see firsthand the generosity of our community, and this is always most evident during the Christmas period. In the coming weeks we are launching our Annual Christmas Appeal to support the Grampians Health at Home Paediatrics Program, which Ballarat Mazda have already made an ongoing commitment to support.
"On behalf of everyone at Grampians Health Ballarat, we like to welcome Ballarat Mazda as our newest community supporter and also acknowledge the generosity of Santa Dave and all the local businesses who help spread cheer in the hospital during the festive season," said Ms Masters.