Kid's Ward Run Charity ride takes to the streets to support Grampians Health Ballarat Children's Ward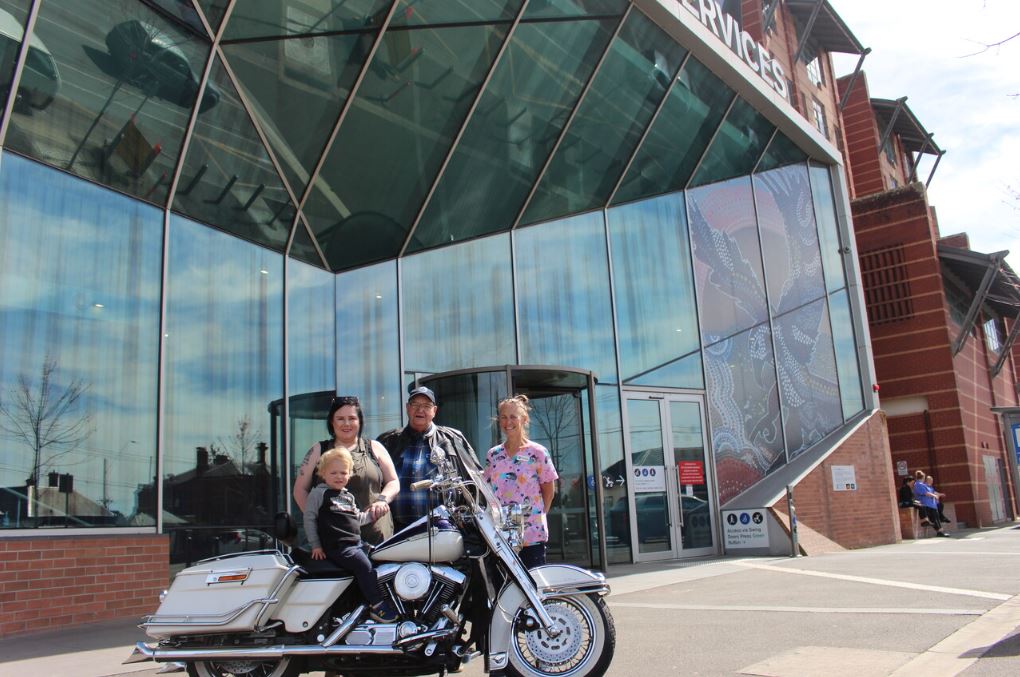 [L-R] Renae Plecher, Kaiden, Ted Kennis and Lauren Malone (Clinical Nurse Specialist, Grampians Health Ballarat Children's Ward)
This Saturday, motorcycle clubs of Ballarat are all set to host the inaugural 'Kid's Ward Run Charity Ride' to support the Children's Ward at Grampians Health Ballarat.
The event will be held on 14 October, from 9:30am at the Ballarat Rovers MC Clubroom, Building 25, Ballarat Airport and will feature coffee and donuts, a Show 'n' Shine for motorcycles and cars, silent auction, BBQ and a ride through Cardigan, Haddon, Ross Creek and Ballarat including past the Ballarat Base Hospital.  
Ted Kennis of the Ulysses Club is organising the event in conjunction with several other bike clubs in Ballarat.  
"As a club, we were looking for a charity to support that would have a real impact close to home. My grandson, Kaiden, was a patient at the kids' ward at Ballarat Base Hospital. He was so well looked after that we started thinking that the kids' ward should have a special event – a bit like the special attention the Children's Hospital in Melbourne gets," said Ted. 
"We also wanted an event which our whole community could get behind. The Kid's Ward Run Charity Ride is an initiative of the combined motorcycle clubs of Ballarat. We want to bring all the motorcycle clubs and enthusiasts of Ballarat together for a great community day. We've had a great response from many local businesses who are supporting us with donations of auction and BBQ items." 
Ted's grandson Kaiden lives in Melton with his mum, Renae Plecher, and dad, Chris Kennis. During a sleepover with Ted in 2021, he became seriously ill and had to be taken to the Emergency Department at Ballarat Base Hospital. Kaiden was in the hospital for 6 days, and since it was during lockdown, only Renae was able to stay with him in the ward.  
"When he was admitted, he couldn't eat and drink – he needed fluids. For the first 4 days, I thought he wasn't going to make it. The doctors and nurses were so caring. They were so thorough with their tests, and I believe that they saved his life. We were so impressed with the level of care given, they really went the extra mile and looked after him so well," Renae said.  
Kellie Pearce, Grampians Health Ballarat Community Events Coordinator for Fundraising, said the team was excited when Ted approached to host a community fundraising event for the Children's Ward. 
"Thanks to the generosity of local businesses, all funds raised on the day will go back to supporting our Children's Ward," Mrs Pearce said. 
"It will be a great day. We're all looking forward to the spectacle of the bikes riding past the Base hospital and back to the clubrooms for a Show 'n' Shine and BBQ. We are very thankful to Ted and all the Ballarat bike clubs' enthusiastic support as our newest community fundraising partner, and we are hoping to make this an annual Kid's Ward Run Charity Run." 
For more information visit: https://fb.me/e/5T8KWdaVe 
Gates and ride registration open at 9:30 am, free entry. Ride is $10 and includes a patch, from 11-12 pm. BBQ and Silent Auction start from 12 pm.