Hopathon to support Kangaroo care in Grampians Health's Special Care Nursery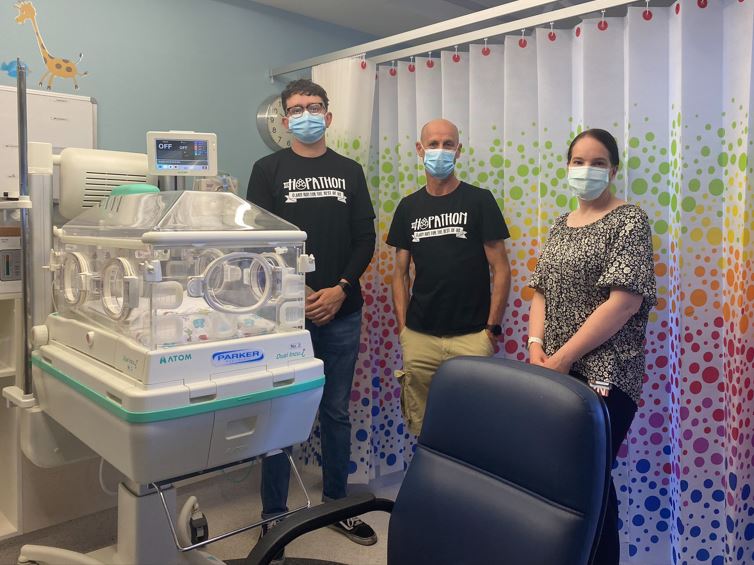 Kieran Smith (Hop Temple), Hopathon Ambassador Steve Moneghetti and Jo Pegg (NUM SCN) with one of the current parent chairs in the Special Care Nursery
Steve Moneghetti visited the Ballarat Base Hospital Special Care Nursery on Friday, 10 November, to support Hop Temple's Hopathon.
The Hopathon is a 600-metre run, walk or hop around the block. All tickets include a donation to the Special Care Nursery. The visit also coincides with World Prematurity Day.
Mr Moneghetti, in his role as Hopathon Ambassador, visited the Special Care Nursery to raise awareness of the important cause behind Ballarat's shortest race.
"This year we are raising funds to help purchase parental recliner chairs for the Special Care Nursery. These chairs will be available to all parents whose baby is in the Special Care Nursery to help support Kangaroo care – which is a gentle, effective way to care for pre-term babies," Mr Moneghetti said.
"We are looking forward to smashing last year's fundraising total over $6,550, which was used to purchase new patient monitors for the special care nursery. This year, we're encouraging everyone hop along to support to kangaroo care for our tiniest babies here in Ballarat."
Joanne Pegg, Nurse Unit Manager of the Special Care Nursery, explains what Kangaroo care is and why it is important for pre-term and low-birthweight babies.
"Kangaroo care is the care of pre-term and low-birthweight babies involving skin-to-skin contact. It is initiated in the hospital setting with the parents sitting in these comfortable recliners. Once established, it can easily be continued once the baby is sent home. We currently have only two recliners in the Special Care Nursery and our parents have consistently reported that they are more comfortable and are more inclined to practice Kangaroo care for longer when they have access to a recliner.
"Kangaroo care is now recommended by the World Health Organisation (WHO) as the gold standard care for pre-term and low-birthweight babies. It has been demonstrated to improve baby's clinical conditions, such as oxygenation, while encouraging breastfeeding. It also promotes bonding with both parents and is a protective factor for parental mental health and the baby's neurological development. These are particularly important factors when you consider the stressful environment the Special Care Nursery can be for parents and their vulnerable babies."
The Hopathon will kick off at 11:30am on Saturday, November 18, 2023. Tickets are on sale at www.hoptemple.com.au until they sell out. Tickets are priced at $55 and include a T-Shirt, Headband, Medal, drink and donation to the Special Care Nursery.
The post-race party in Hop Lane will feature live music, auctions, food and, carb-loading of the liquid kind.