Harmony Week - Dr. Ibtissam Shahbal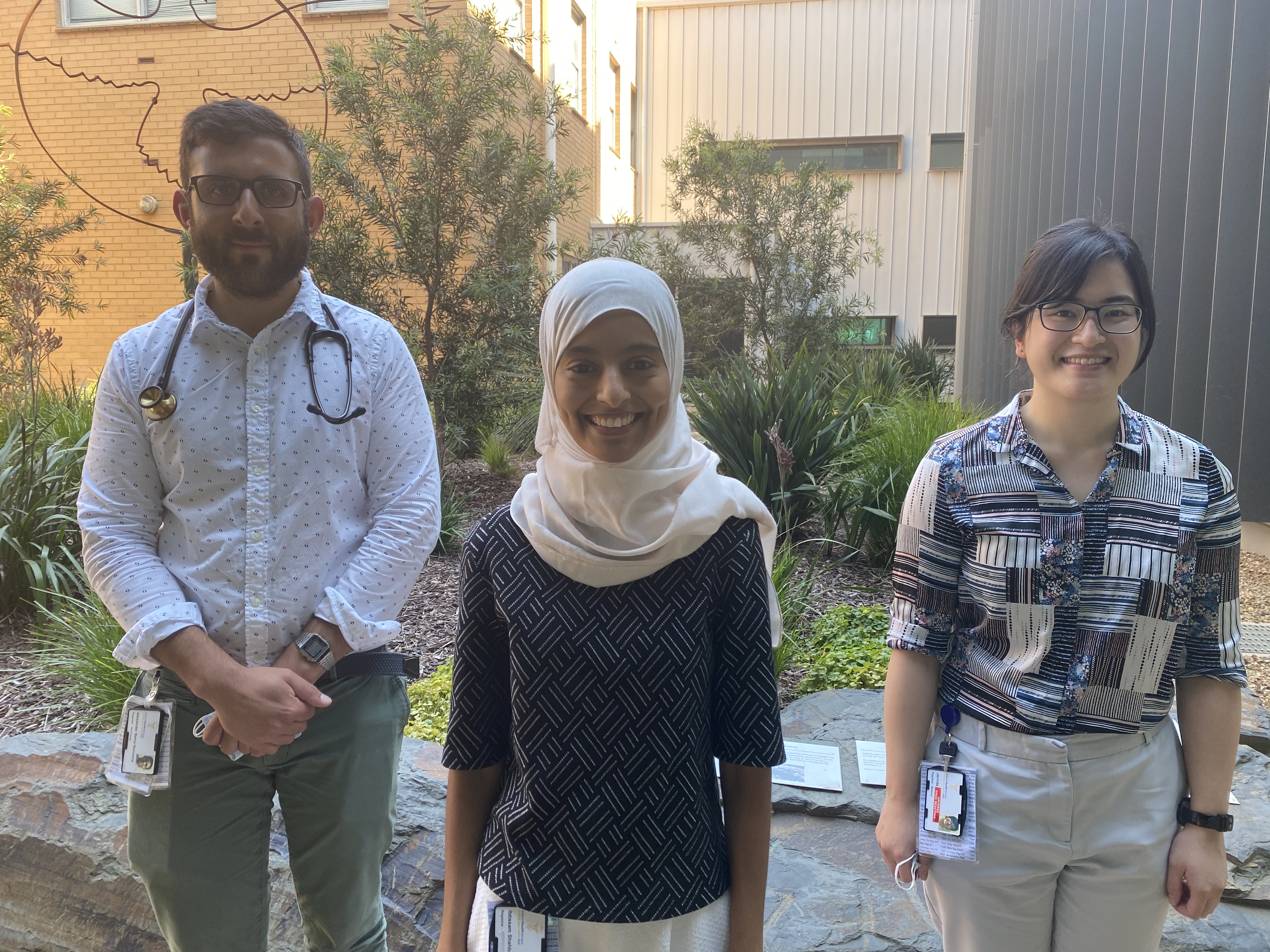 Ibtissam Shahbal (centre) with follow registrars Alexander Berry-Noronha (left) and Jacinta Bui (right)
As part of Harmony Week 2021, we're sharing stories of our staff; where they come from, and why diversity creates a richness within our community. Our third profile is of Ibtissam Shahbal, who is a registrar undertaking physician's training at Ballarat Health Services.
Describe your background
I'm Kenyan originally, but I grew up in Saudi Arabia as my parents moved there for work. I spent time in both Mombasa (a large island and county in Kenya) and Jeddah in my childhood and used to do a lot of travel to see relatives. I went to Malaysia for college and University, and then I moved to Australia.
How long have you been working at BHS? What is your role?
I'm doing physician's training at Ballarat Health Services – This is my second year in Ballarat and I will be staying on for the rest of the year. At the end of the program I'll become a specialist, it's a total of about 6 years of training. I'm doing General Medicine half of this year, and hopefully after my exam in April I'll be able to specialise in Haematology.
I've really enjoyed my time here; I find the team at the Internal Medicine Service really welcoming and accommodating.
What does diversity mean to you?
I know people think about it in terms of race or culture, but I think it's having an attitude of 'everyone's welcome' – everyone has different ways of approaching things, or problem solving, and leadership makes a big difference. If the culture at the top is to be inclusive and willing to accept other opinions to change and progress, that's how you progress.
The culture amongst specialists here is quite respectful. I feel like a part of the team; moving here was a big change but I felt welcome as soon as I moved here.
What would you like other people to know about your heritage?
Kenyans or people from my part of the world are very welcoming. We enjoy having get-togethers, having people over, being social.
This year's theme is 'everyone belongs', what does that mean to you?
I think it's respecting other people even if you disagree with how they do things; still respecting or looking at what positive things they bring to the table. Time and time again I've learnt there are lots of ways of doing the same thing; just because it's a bit different, or even if the initial outcome is a bit different, it does achieve the goal in the end. That allows you to be more open and adaptive.