Harmony Week - Dr. Anoop Raveendran Nair Lalitha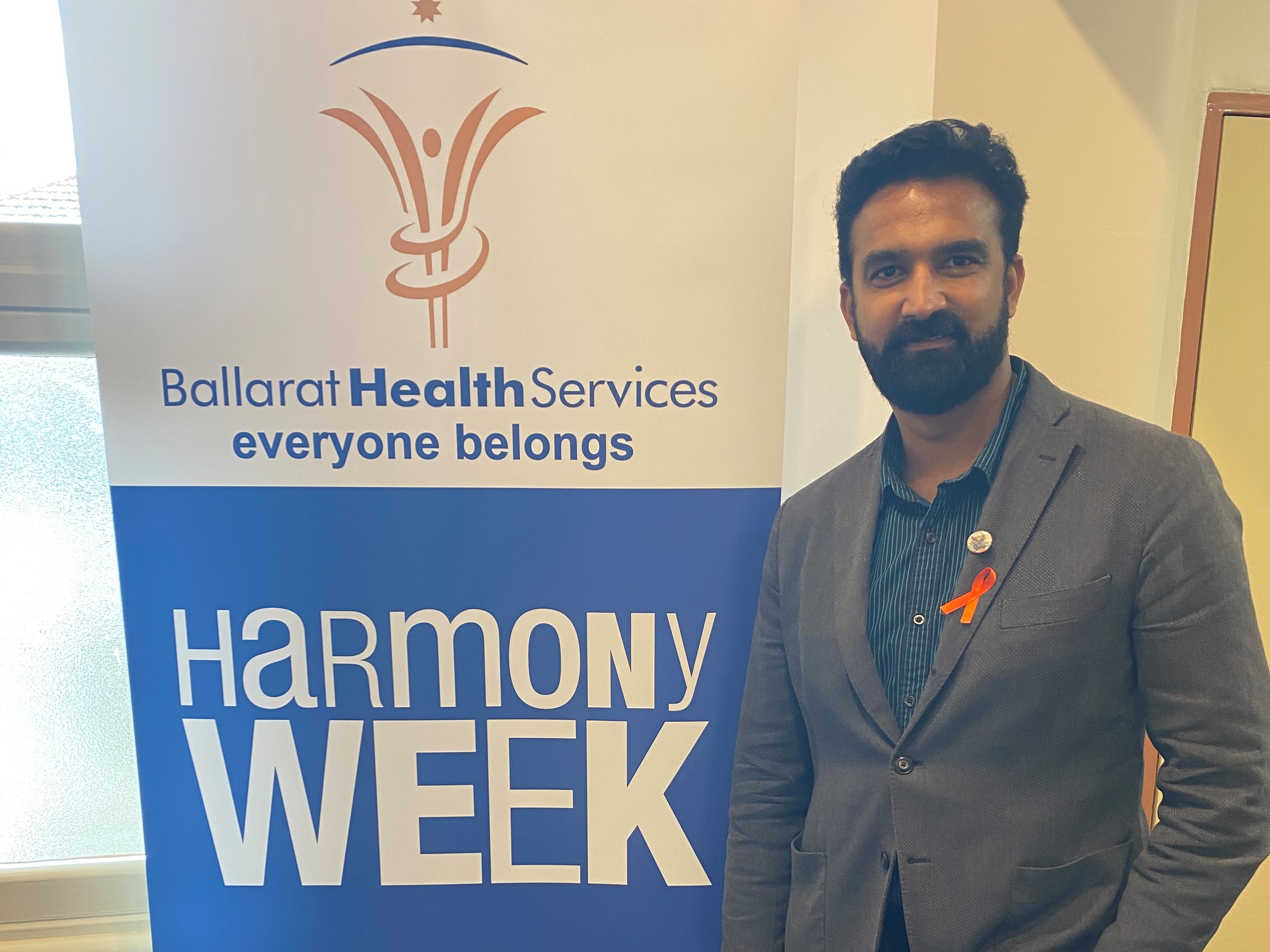 As part of Harmony Week 2021, we're sharing stories of our staff; where they come from, and why diversity creates a richness within our community. Our first profile is of Dr. Anoop Raveendran Nair Lalitha, the Director of Clinical Services for Mental Health at Ballarat Health services.
Describe your background
I am proud to say that I hail from an Indian background and my place is in the southernmost part of India, Kerala. Kerala is a land of backwaters and beaches and I grew up in a beach city which was a place of diversity in terms of religion, skin colour, financial backgrounds and education.
How long have you been working at BHS?
I have started my journey with BHS in 2015 as a Staff specialist and have lived in Ballarat since then. 
What does diversity mean to you?
Diversity is a value position for me. Each and every person is different and unique. It's a value we have to embrace and see the person beyond the skin colours, races, religions, genders, finance and education. Peace and harmony exists only when diversity is a value in the community.
What would you like other people to know about your heritage?
I come from a heritage which is around 4500 years old which believes in unity in diversity. India has 28 states and 8 union territories, six main religions and many other faiths, around 120 languages and 1.3 billion people. However, we all live together and every person in my place have friends or relatives from diverse backgrounds. For us, diversity is a cultural norm, not a value to learn.
This year's theme is 'everyone belongs', what does that mean to you?
This world is an ecosystem of humans and animals. The human ecosystem needs each and every diversity to be complete and to survive. Each and every person has a role to play and provide to the survival of this ecosystem. The system is unstable and unsustainable without contributions from every individual surviving in that system. People are healthy and productive when their diversity is accepted and respected. .
Is there anything else you'd like to include?
As an Indian, I believe in Vasudeiva Kutumbakam (in Sanskrit language) which means this "World is one family". We are moving towards the concept of Universal citizens and relationships beyond the borders of countries and races.