Grampians Health says 'thank you' to its volunteers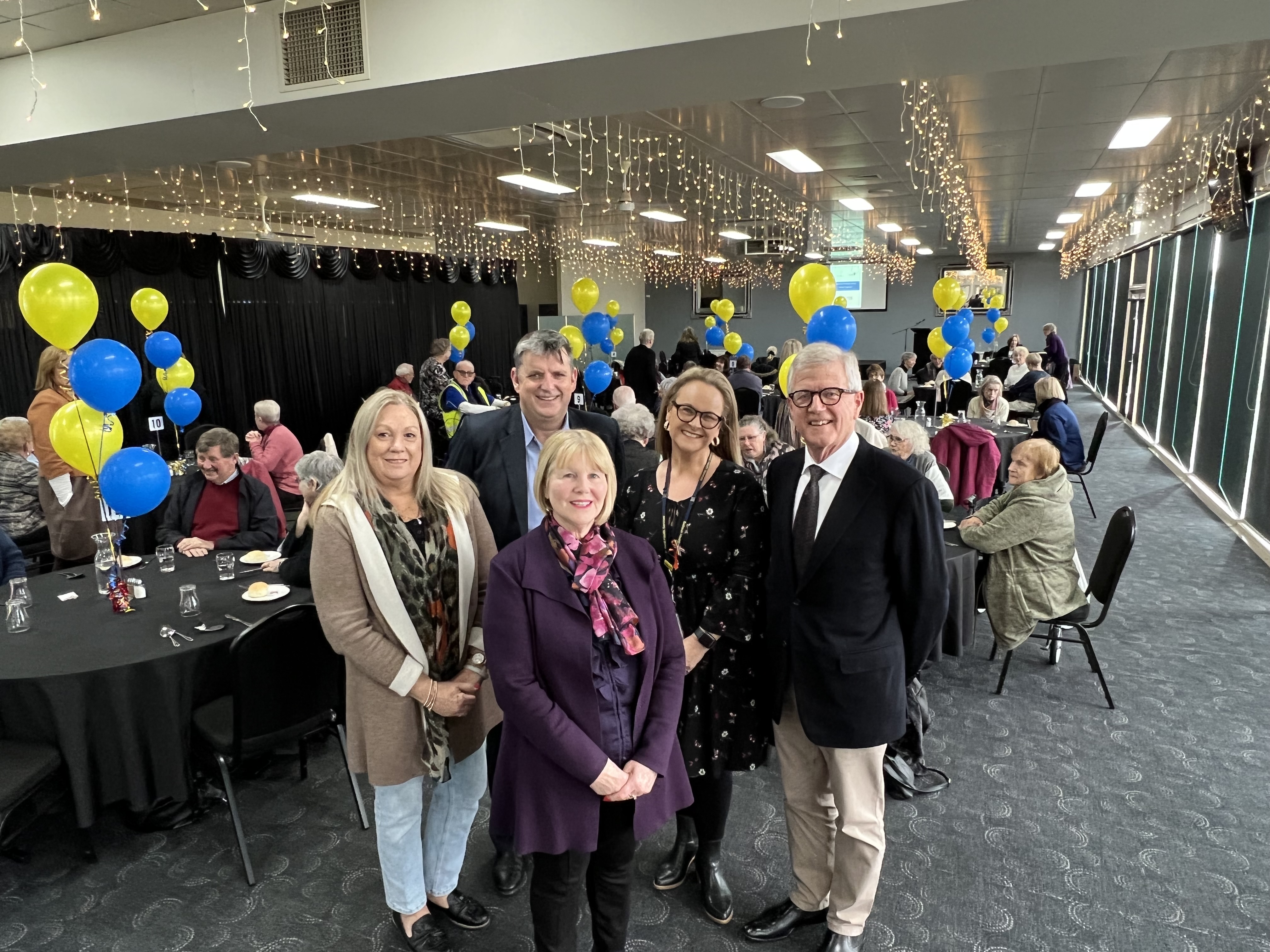 Grampians Health CEO Dale Fraser and Board Chair Bill Brown with members of the volunteer team
Grampians Health is this week celebrating its volunteers as part of National Volunteers Week.
With more than 200 registered volunteers across its five campuses, Grampians Health Chief People Officer Claire Woods welcomed the opportunity to recognise the outstanding contributions of these local heroes and thank them for their support.  
"Volunteers play an invaluable role in the care and support provided to community members across the region through their local Grampians Health campus," Ms Woods said. "We thank each and every one of them for their dedication and selflessness.  
"The past two years have been challenging for volunteers, with COVID-19 halting volunteer programs as we contended with lockdowns and various restrictions.  
"We appreciate the patience that our volunteers – and our community – have shown during this time. With the easing of restrictions now we are thrilled to be able to start reintroducing volunteer programs in a safe manner and welcoming these wonderful people back onsite.  
"Volunteers are the backbone of communities. To be able to have our team of volunteers back as part of Grampians Health, supporting local people, is a true positive step forward." 
Manager Volunteer Services for Grampians Health – Ballarat Leah Ferguson said that Ballarat's volunteers had been invited to a lunch to celebrate their return, to reconnect with the health service and to recognise long-standing retiring volunteers, on Wednesday 18 May.  
"Our volunteers are so important to Ballarat's health service, and their reach is wide and varied – from our volunteer programs at the Ballarat Regional Integrated Cancer Centre (BRICC), to our Welcome Team, Amputee Support and Volunteer Simulated Patients programs, and our BreastScreen volunteers to name a few," Ms Ferguson said.  
"We look forward to bringing together our team of volunteers for the first time since COVID hit, to reconnect and celebrate their contributions, their return to the hospital and the role that they play in general to the wellbeing of our community." 
National Volunteer Week this year runs from 16 to 22 May, and is Australia's largest annual celebration of volunteering. To read profiles of some of our Grampians Health volunteers, visit www.grampianshealth.org.au/our-people