Grampians Health's new modern EAC facility set to enhance patient care and reduce emergency wait times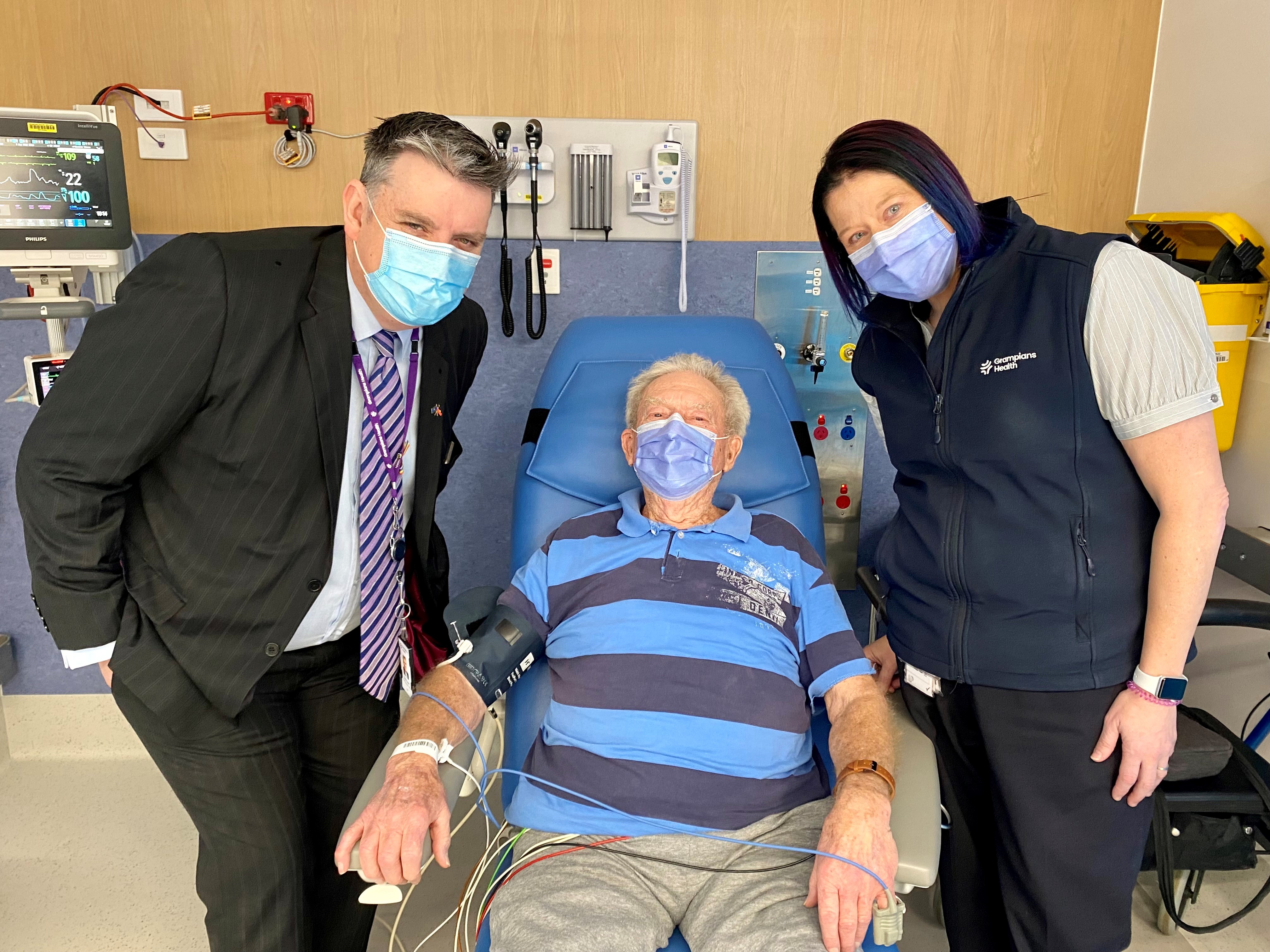 CEO Dale Fraser, Patient Ronald and EAC NUM Kirsty McLean.
Grampians Health's new $5 million Emergency Ambulatory Care (EAC) facility aims to alleviate pressures within the Emergency Department and reduce wait times.
Premier Daniel Andrews today visited the new large fit-for-purpose space which helps to improve patient flow through streamlined processes and allow staff to provide the best care when it is needed most.   
Grampians Health CEO Dale Fraser said while the EAC would help reduce wait times in the Emergency Department it also aimed to improve patient satisfaction.
Mr Fraser said the EAC would assist patients who require semi-urgent medical attention, usually those patients who are triaged a category 3-5 in our Emergency Department.
"The new space will be fully monitored which will allow the hospital to take more urgent patients. This also means that a substantial portion of patients who previously required a period of treatment can now benefit from expedited attention in the EAC," Mr Fraser said.
"The combined model of fast track and semi-urgent presentations will determine patient allocation to the EAC based on triage. Should a patient's condition necessitate a higher level of care, they can be seamlessly transferred back to the Emergency Department for immediate attention."
Chief Redevelopment and Infrastructure Officer Veronica Furnier-Tosco said the EAC project was another example of Grampians Health's commitment to developing future-focused infrastructure to support our health care service.
"Works on the facility commenced earlier this year and were completed in July. It's fantastic to already see the EAC operational and helping deliver better patient care," Ms Furnier-Tosco said.
"The EAC comprises of a spacious 10-bed unit, one treatment room, one consult room, a well-equipped medication room, a dedicated staff station, two patient ensuites, modern offices and staff amenities to ensure a seamless and comfortable environment for both patients and staff.
"With its modern features and patient-centric care approach, the EAC is set to assist our emergency medical services, providing the community with enhanced access to quality healthcare when they need it most."
Grampians Health's new Emergency Ambulatory Care facility was funded by the Victorian Health Building Authority.