Grampians Health clinical trial recruits first Australian patient to rare lung cancer study
Wednesday 27 September 2023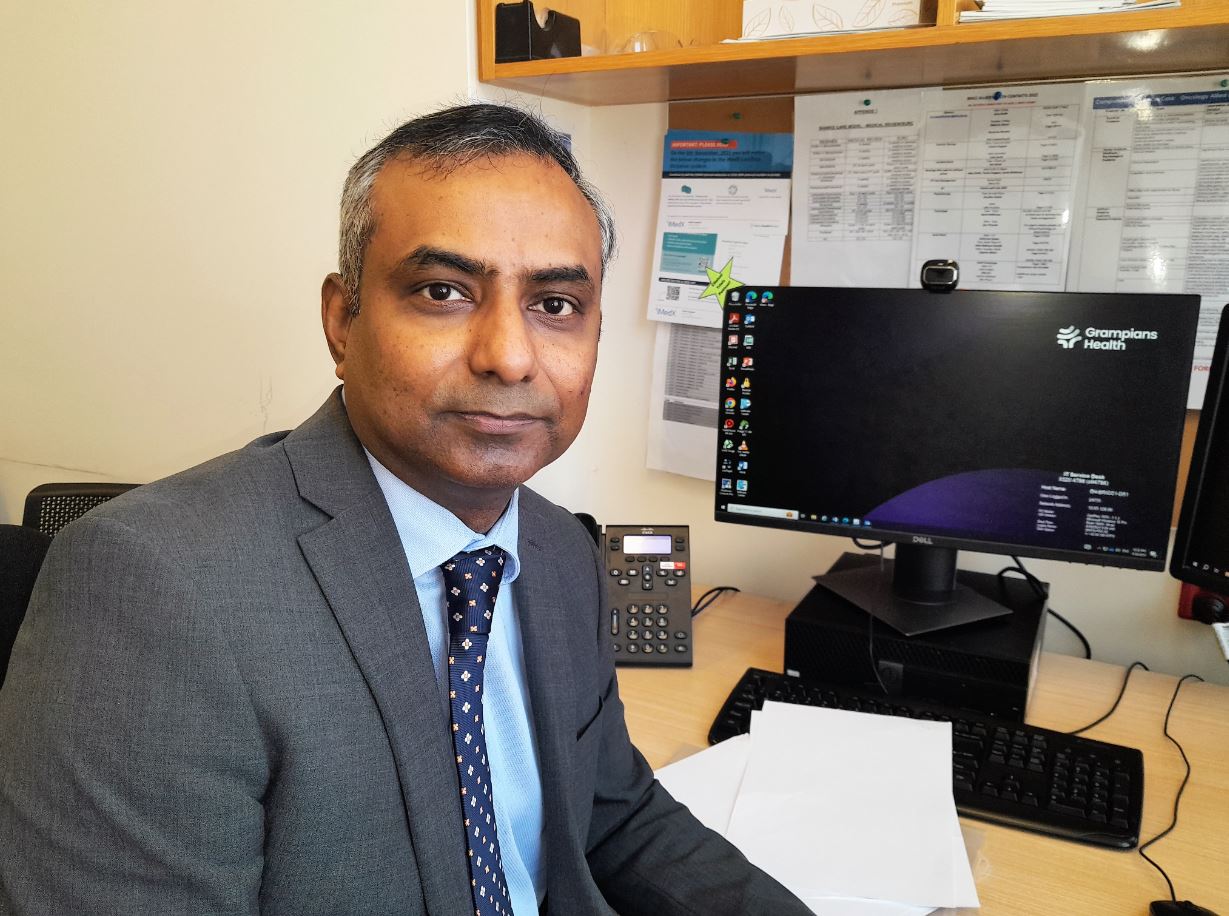 Grampians Health's Medical Oncologist and Associate Investigator Dr Wasek Faisal
Grampians Health's Medical Oncologist and Associate Investigator Dr Wasek Faisal and Clinical Trial Coordinator Mr Ethan Pitman recently represented Australia at an international investigator meeting for a lung cancer clinical trial targeting a rare cancer mutation.
The trial is a phase III trial to test the efficacy of a new targeted treatment in early-stage non-small cell lung cancer (NSCLC) with a rare RET-fusion mutation.  
RET-fusion mutations are only found in 1–2% of NSCLC patients and testing for this mutation is not routine practice in early-stage disease, making recruitment difficult. Despite this, Dr Faisal's team recruited the first, and only, patient in Australia within the first six months of the trial being open at Grampians Health.  
"It's fantastic that we've been lucky enough to recruit the only patient in Australia for this trial so far," said Dr Faisal. "Working to find ways to treat rare cancers is a privilege, giving us the opportunity to help people who are in unique situations. 
Dr Faisal also leads Grampians Health's Rapid Access Lung Lesion Clinic (RALLC), which is the primary referral service for potential lung malignancy patients in the Grampians region. 
"We're lucky to have great resources at Grampians Health giving us the ability to dedicate time to cancer research in regional Victoria," Dr Faisal said. 
The RALLC clinic is made up of a collection of respiratory medicine clinicians and thoracic surgeons, along with Medical Oncologist Dr Faisal, and coordinated by Ms Kathy McCann. RALLC closely monitors all potential lung cancer patients, allowing them to be diagnosed and treated in a timely manner.  
This streamlined referral service also allows the early identification of potential clinical trial patients to give them access to novel and personalised care which may only be available in a clinical trial setting. 
"Being able to conduct research and clinical trials in regional Victoria not only helps to keep our patients closer to home, it also gives people access to life-changing treatment in their backyard, reducing some of the stress associated with a cancer diagnosis and treatment," said Dr Faisal.