Grampians Health Ballarat demonstrates the importance of community donations
Thursday 7 September 2023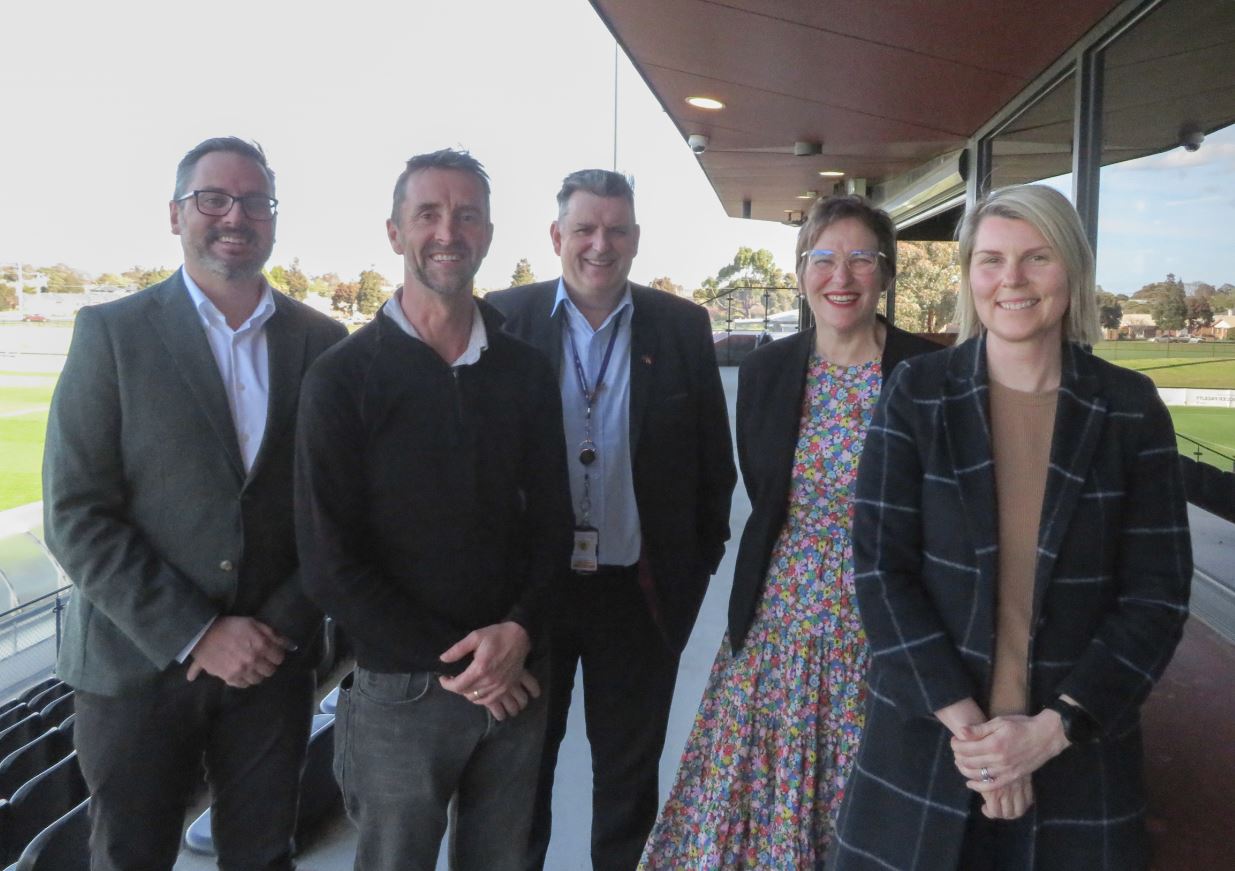 Luke Dunne and Ross Huntington (The Velorats), Dale Fraser (CEO, Grampians Health), Sarah Masters (Head of Fundraising and Engagement, Grampians Health Ballarat), Tracey Duggan (Accredited Exercise Physiologist, Grampians Health)
As a token of appreciation, Grampians Health Ballarat and the Ballarat Health Services Foundation hosted a donor and supporter Thank you Afternoon Tea on Wednesday 6 September 2023 at the Ballarat Regional Soccer Facility at Morshead Park, Redan.
The event was an opportunity to thank community donors and to demonstrate the impact of these donations across our health service. The attendees enjoyed an afternoon socialising with other generous individuals, community groups and local businesses, all of whom have supported Grampians Health Ballarat and the Ballarat Health Services Foundation through philanthropic donations. Projects at the health service which were funded by community donations were on display. These displays allowed the donors to see the importance of their generosity to the care that is provided by Grampians Health Ballarat.
"Last year we had over 860 individuals donate to Grampians Health Ballarat or the Ballarat Health Services Foundation through about 50 community donor events, appeals and activities," said Sarah Masters, Head of Fundraising & Engagement at Grampians Health Ballarat.
"The diversity of our donors is representative of the diversity of the Ballarat community. We have small school fundraisers, donors who have contributed over many, many years to our bi-annual appeals, through to corporate donor support at our annual golf day.
"While we are a publicly funded hospital, we rely upon donations to help provide innovative equipment and services beyond the scope of our government funding, as quickly as possible. This event is our opportunity to thank our community donors, and to showcase the projects they have helped realise."
Luke Dunne, a Ballarat lawyer, is a member of the Velorats Cycling Team. This year, the Velorats switched their fundraising efforts from a national charity to supporting the purchase of new exercise equipment for cancer patients at Grampians Health Ballarat.
"After many years of participating in the Murray to Moyne Cycle Relay, last year we decided to switch our fundraising activities to support our local public health service, through the Ballarat Health Services Foundation," said Mr Dunne.
"We have enjoyed pairing our love of cycling with a fundraising project that helps support the physical and psychological health of cancer patients in Ballarat. It's great to see that our community fundraising activities have a direct impact on patients here in Ballarat. We would encourage anyone who would like to give back to our community to consider becoming a community fundraiser. It's a very rewarding experience."
Luke Evans, Grampians Health Interim Clinical Manager Exercise Physiologist, was part of the team responsible for using the funds raised by the Velorats.
"On behalf of the whole Exercise Physiology team at Grampians Health Ballarat, I would like to express our sincere gratitude to our community donors, the Velorats. Their support means that we can provide new, and upgrade existing, equipment in our gym at BRICC (Ballarat Regional Integrated Cancer Centre). Our upgraded gym will vastly improve the exercise therapy support we can provide to our cancer patients."
Mr Evans added that the exercise equipment is important for the treatment and care of cancer patients.
"Exercise therapy during cancer treatment is now regarded as standard practice as it can improve the patient's quality of life, through optimising physical function and managing treatment-related side-effects, such as fatigue. This donation will make a real difference to cancer-patient care at Grampians Health Ballarat."
Ms Masters is keen to demonstrate the breadth of projects that have been funded through fundraising projects at Grampians Health Ballarat.
"Our fundraising projects are as diverse as the care we provide. In recent years we have helped purchase newborn hearing equipment and resuscitation cots, CPR machines for use in cardiac care, On-road nurses bags to care for patients in their own homes, the ongoing support of our Cancer Wellness Centre, and the purchase of an Aged Care bus. Each of these projects wouldn't have been possible without the generosity of our community."