Go Dry this July to support BRICC Wellness Centre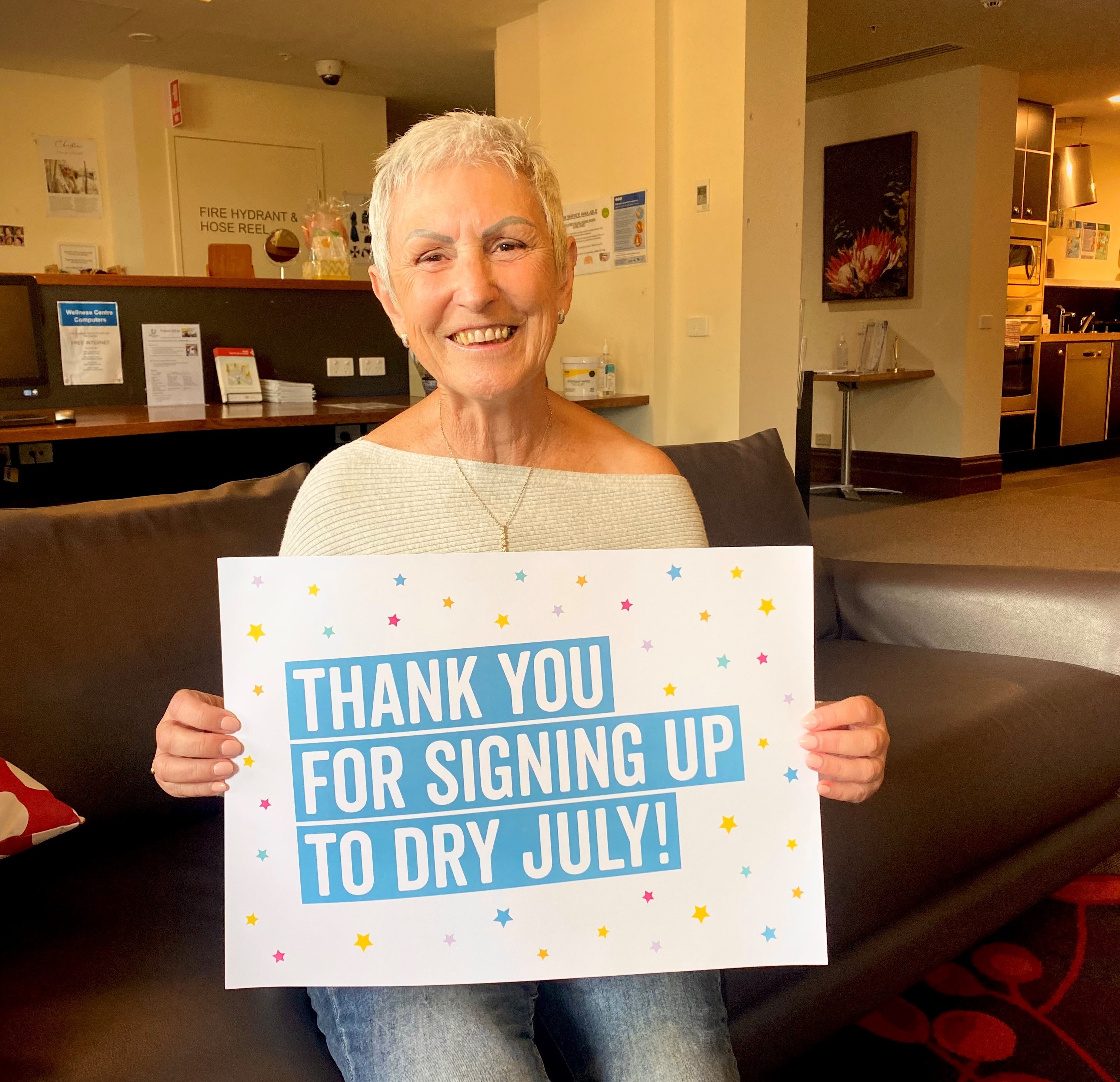 Grampians Health - Ballarat are encouraging the community to take a month off alcohol to raise funds for the Ballarat Regional Integrated Cancer Centre (BRICC) Wellness Centre.
Cheryle Allan is a Dry July Ambassador for the BRICC Wellness Centre. Cheryle has been through a gruelling few years since her first cancer diagnosis in 2018. Despite feeling fit and well, she found a lump under her arm and was subsequently diagnosed with stage 3 breast cancer. Cheryle began chemotherapy which lasted for more than nine months. This was followed by a lumpectomy, and then a double mastectomy. She then completed daily radiation for six weeks and then eight months of chemotherapy tablets. For the next two months, Cheryle tried to resume her normal life, but had a feeling that something wasn't right. A PET scan revealed three new tumours and Cheryle began two years of immunotherapy and chemotherapy.  Nine months after that treatment began, Cheryle was told she had no cancer cells in her body.  
Throughout these difficult years, Cheryle attended the Wellness Centre at BRICC. "The girls at the Wellness Centre are invaluable to people who have cancer. They help keep you positive, by treating your mind with positive thoughts and in general boosting your spirits," Ms Allan said. "They give you encouragement to go on when you feel that you can't." 
The BRICC Wellness Centre and Pastoral Care Manager, Simone Noelker describes the Wellness Centre as a vital resource to support people with cancer that would not otherwise be available, or might be cost prohibitive to some patients.  
"The Wellness Centre is a welcoming space. We provide an environment where cancer patients and their families can feel comfortable, safe and protected. Our team supports the social, spiritual, physical and emotional needs of cancer patients and their families at a time of uncertainty and fear," Ms Noelker said. "We aim to empower and support patients in taking an active role in their health and well-being through a number of educational programs, one-on-one sessions and support groups. All of which is provided free of charge for all cancer patients in our region." 
Ms Noelker explains the importance of Dry July to the Wellness Centre.  
"The Wellness Centre is 100 per cent community funded. Its only through fundraising that we can continue to provide our evidence-based wellness therapies that help ease the side effects of cancer treatment and support all cancer patients in the Ballarat and Grampians region. Every dollar donated is greatly appreciated," Ms Noelker said. "The Dry July campaign is our largest fundraising activity of the year. By participating in Dry July, you help make a difference in the lives of families touched by cancer."  
The Dry July campaign encourages everyone to take a month off alcohol and to raise money by asking family, friends and workmates to sponsor them. In addition to raising money for cancer programs, having a dry July has many health benefits, including better sleep, weight loss, healthier skin, more energy and a great sense of achievement.  
To donate to or raise funds for BRICC Wellness Centre, visit https://www.dryjuly.com/beneficiaries/ballaratregionalintegratedcancercentre