Construction stakeholders learn more about Ballarat's biggest infrastructure project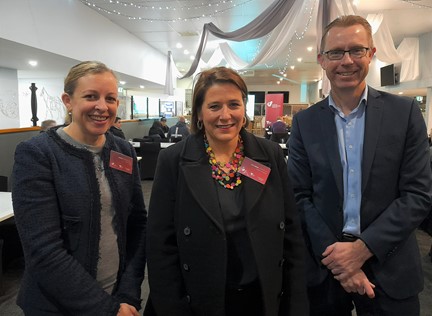 Victorian Health Building Authority BBHR Project Director Anna Marshall, Member for Wendouree Juliana Addison and City of Ballarat CEO Evan King
Thank you to the trades and construction stakeholders who attended last week's Industry Briefing Breakfast for the $541.6 million Ballarat Base Hospital Redevelopment – Ballarat's largest infrastructure project.
Along with Grampians Health and the Victorian Health Building Authority, Member for Wendouree Juliana Addison also helped to inform trades on how they can get involved in the redevelopment and tender on stage two of the project which will deliver a new central energy plant and support services building.
Thank you also to the Industry Capability Network and Apprenticeships Victoria for their support.
For more information on how trades can still get involved in the project please visit http://ow.ly/vXNO50JMguw.