Community generosity delivers two new mechanical CPR machines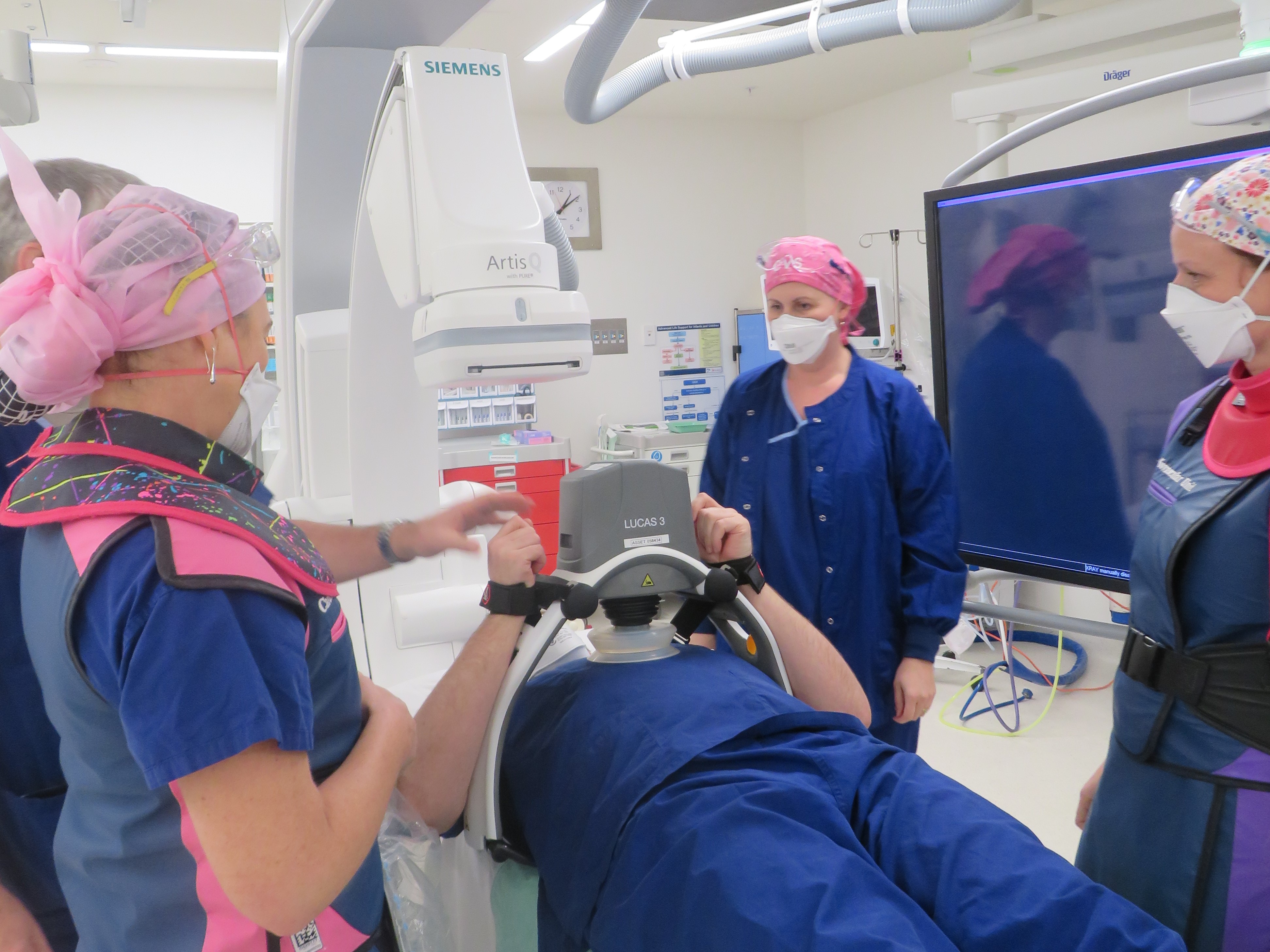 Our Christmas appeal last year asked our community to help us raise funds for a mechanical CPR machine for our Cardiac Catheterisation Laboratory (Cath Lab).
Thanks to the incredible generosity of our community we have been able to purchase two mechanical CPR machines. These machines have now been delivered to both the Cath Lab and the Emergency Department. The machines have already been used in life saving procedures. The generosity of our community has made a real impact on the provision of life-saving healthcare at our hospital.
Prior to the purchase of these two machines, the only available machine was kept in the Intensive Care Unit (ICU). If a patient went into cardiac arrest in either the Cath Lab or the Emergency Department, a staff member immediately started CPR, while another staff member had to spend precious minutes retrieving the CPR machine from the ICU, and could only use the machine if it was not being used on another patient. This situation also hampered regular training sessions for Cath Lab and Emergency Department staff on use of this equipment. The photograph shows a training session on the new equipment in the Cath Lab.
Both departments wanted to express their gratitude in having their own equipment on hand.
From Sherree Atkinson, Clinical Nurse Specialist, Cath Lab:
''Every procedure we perform in the Cath Lab is under X-ray. If someone is having a heart attack, we inject contrast (dye) into their coronary arteries to look for the narrowing or blockage under the X-ray machine. It is a hard job, which is made more difficult whilst performing CPR, wearing an 8-10kg lead vest and skirt and working around the overhead x-ray machine.
The CPR machine can be used for seconds to hours – as soon as their heart stops, we use it. It's a wonderful machine – it provides really effective, consistent CPR for our patients. It also protects our staff, who are not being exposed to as much radiation or awkward positioning under the X-ray machine. It literally saves back-breaking work which allows us to concentrate on opening the blockage in their heart.'
From Grant Berriman, Nurse Unit Manager, Emergency Department:
'For us to have our own piece of equipment, we can now do regular training which reduces the anxiety about using device in an emergency. And from a CPR point of view, as a benefit to the community, you've got that consistent delivery of CPR, which is quite variable when you put human factors. When performing CPR, staff experience fatigue and back pain – it's not an easy job and it's not something you can perform for a long time, so we often need to rotate multiple staff through. This machine takes all of that out and it just takes over. We are so grateful to have our own machine in the ED.'
And a final message from Tania Harrison, Nurse Unit Manager, Cath Lab who was introduced to you during the Christmas Appeal:
'It is a wonderful machine. We have already used it on a patient whose heart had stopped. It allowed us to get a pulse back and the patient had no neurological deficiencies – it was very impressive. We are so grateful to have one of these machines in our department, and our whole team sends a heartfelt thank-you to all the generous donors who made this purchase happen.'
Thank you again to all our donors for helping us deliver world-class health care to our community.