Clinical trials helping patients live best quality of life possible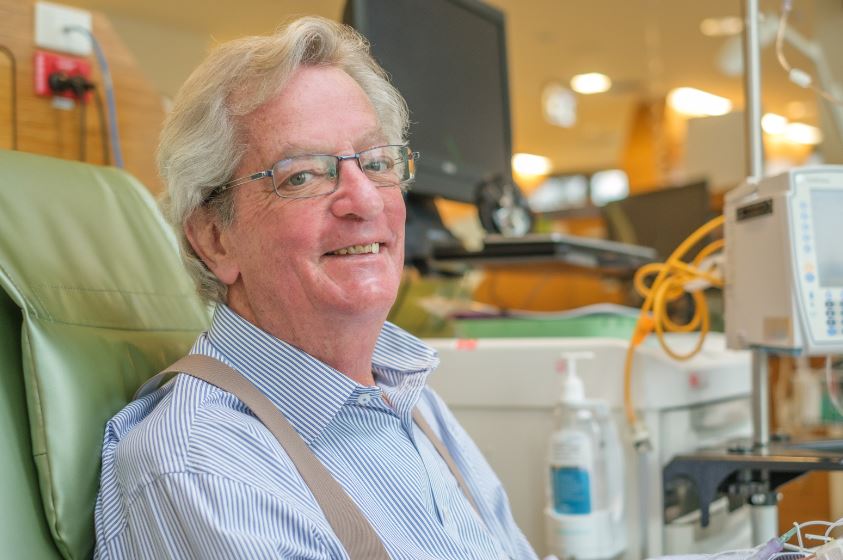 May 20 is International Clinical Trials Day, and Grampians Health is celebrating a milestone of over 100 clinical trials currently open. Clinical trials are an important part of the advancement of medical research and treatment, helping patients find the best treatment for them, now and into the future.
Christopher Duncan was a fit, healthy man in his late 50s when he was unexpectedly diagnosed with bowel cancer in 2011. His prognosis was two to three years.
Twelve years later and Mr Duncan is starting his latest round of chemotherapy and doing his best to keep himself fit and healthy.
"I'm still walking five to six kilometres a day and pushing weights in the afternoon. I've always enjoyed movement and staying fit. Keeping body fitness, that regime, culminates with being able to cope with the side effects to a point," Mr Duncan said.
"You work within the parameters, however refined they become, you have to push the boundaries as far as you can," Mr Duncan said.
In September 2011, while recovering from a knee replacement, a routine blood test showed some abnormalities. Follow up tests confirmed Mr Duncan had cancer.
In twelve years, Mr Duncan has undergone a number of lengthy surgery and many rounds of chemotherapy and radiotherapy. In 2013, he participated in the VENGEANCE trial at Grampians Health, a chemotherapy treatment targeting the metastatic tumours throughout his liver.
Mr Duncan was on the trial for three years and five months. When he first started the trial, the average lifespan was 18 to 24 months. Ten years later, Mr Duncan is still here and participating in experimental treatments for his cancer.
"That trial gave me another opportunity at life," said Mr Duncan.
"The information that comes from my trial experience – all the positives and negatives of it – all go to the next tier of cancer patients, so it goes into their treatment, it's not only helping me.
"It's nothing like being a guinea pig or anything like that. Years of laboratory trials and testing have preceded patient delivery in clinical trials.
"Clinical trials are set on a base of precedences. It says this drug is working for Chris, this one is not working for Jack, this one's not working for Jill; we'll try this, we'll try that. There are so many different avenues, it just keeps opening up.
"And anything at all to suppress a particular cancer in a trial that gives you quality of life is what it's all about."
Mr Duncan has started an experimental treatment with Grampians Health, which is a combination of two different chemotherapies. This treatment will see him at the Ballarat Regional Integrated Cancer Centre (BRICC) each fortnight for the next three months, followed by a CT scan to see how the treatment has worked on his tumours.
"I can't say enough about the professional, compassionate and timely care I have received from oncologist and friend Dr Stephen Brown and the competent, adept, and compassionate oncology nursing staff under the direction of Rachel Hodges and Colleen Deppeler.
"I worked at the Base Hospital for 42 years but have learnt so much of the angst and apprehension on just being a patient living from one CT to the next," Mr Duncan said.
Mr Duncan's first treatment, much like any new treatment or clinical trial, was making sure he was able to safely tolerate the treatment, which saw him spend a little longer with the trials team at BRICC than the rest of his treatments would take.
"What you give back is just as important as what you receive," Mr Duncan said on being involved in clinical trials.
"What information you can give back is vital for your care; you play a big role in your treatment. Talk to your doctors and tell them about your side effects. Write down points you want to discuss with your doctor."
With the first two sessions of his new treatment under his belt, Mr Duncan is looking forward to the positives this may bring him.
"This new treatment will hopefully give me a prolonged hold on life. I'm still trying to live the best quality of life I possibly can. The information gleaned from this treatment together with past and future trials are also helping another group of patients coming after me," Mr Duncan said.