Charity Golf Day raises over $70,000 for Infant Resuscitation Cots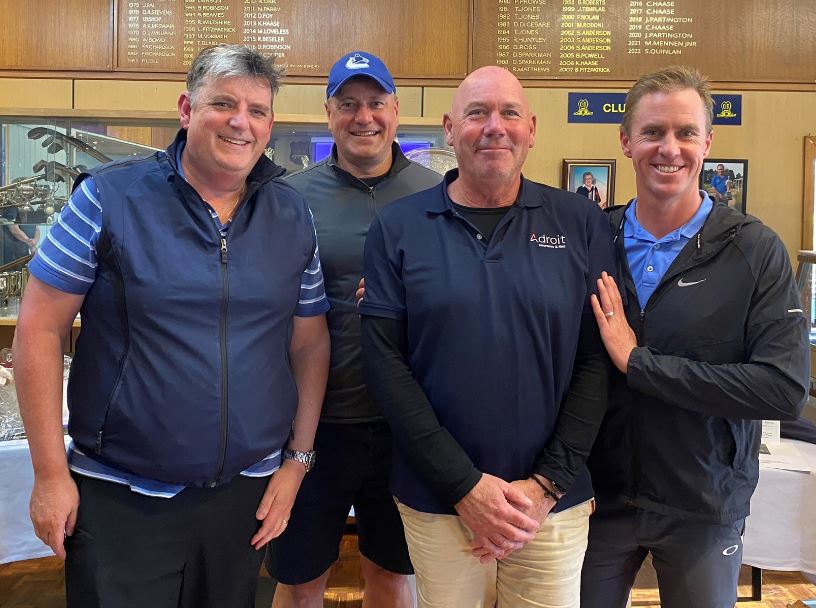 Grampians Health Ballarat – Adroit Insurance & Risk team: Dale Fraser, CEO Grampians Health; Craig Wilding, Chief Operating Officer Community and Aged Care; Steven Coltman, Director of Adroit Insurance & Risk Ballarat; Andrew Ferguson, Bentley Property Group.
We're delighted to announce that our Adroit Insurance & Risk Annual Charity Golf Day raised over $35,000 – but due to the generosity of the Ballarat Health Services Foundation who are doubling all funds raised on the day – we reached an incredible total of over $70,000.
Our intrepid golfers faced classic Ballarat Autumnal weather – the day started with a rainstorm and ended in sunshine! The ladies' trophy was taken home by the Bohan Cleaning Team, while the men's trophy was taken by Haymes Paint, closely followed by the Adroit/Grampians Health Ballarat team and the Mailworks team.
This year, our golfers were helping us raise funds to purchase new infant resuscitation cots. Grampians Health Ballarat currently has 10 resuscitation cots – five in maternity, two in Special Care Nursery, one is Paediatrics and one each in the Emergency Department and the Operating Theatre. As these cots reach the end of their working lives, we are progressively replacing them.
Dr Shabna Rajapaska, Co-Director of Paediatrics at Grampians Health, spoke at the golf day. She described various situations where these cots are used in life-saving procedures for newborns babies, including difficult births or when babies presented at the Emergency Department with sepsis.  
"Having access to these state-of-the-art cots in Emergency and Operating Theatre means we can provide the highest level of care to our youngest, most vulnerable patients in these clinical emergency settings," Dr Rajapaksa said.
"For me, their biggest advantage is how these new cots facilitate teamwork between clinicians, leading to better outcomes for our tiniest patients."
After the golf, the players tried their luck on our wine wall lucky dip and an enthusiastic auction. Auction prizes included a signed Western Bulldogs jersey, gorgeous accommodation packages and a variety of hampers.
It is due to the incredible generosity of Ballarat Health Services Foundation, Adroit Insurance & Risk, over 30 local community sponsors, our teams and our major sponsors that we were able to raise so much – all for our tiniest patients.