BreastScreen volunteers bring calm and reassurance
#OurBHS
#OurCommunity
National Volunteer Week
volunteers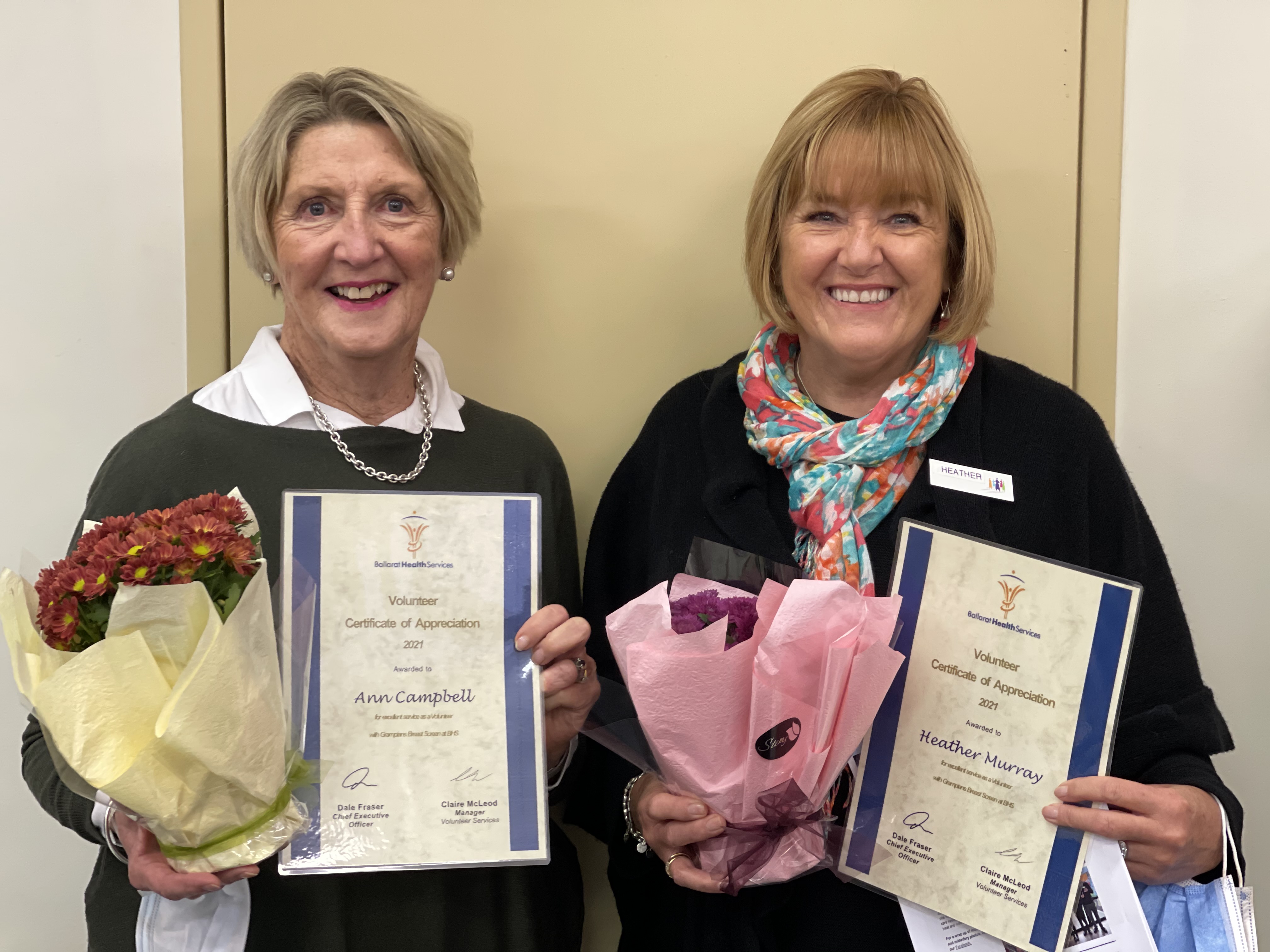 L-R Ann Campbell and Heather Murray
The Grampians BreastScreen team are fortunate to have two wonderful volunteers who dedicate their time to assisting and providing company to people in the Assessment Clinic waiting room every Wednesday morning.
Ann Campbell has been working with the BreastScreen team for more than 9 years, having initially joined as a consumer representative following her own breast cancer experience. 
"When I was coming close to retirement I thought I'd like to do something with BreastScreen, because they really saved my life with early detection," Ann said. "My initial role was as a consumer rep, and that evolved into volunteering." 
Through her time as a consumer representative, Ann recommended the volunteer program for BreastScreen following her experience with volunteers while having treatment at BAROC. She has been volunteering at BreastScreen since the program's beginning. 
Similarly to Ann, Heather Murray started volunteering when she retired 3 years ago which coincided with an opportunity in the BreastScreen volunteering program. 
"Volunteering at BreastScreen is just being there for patients, and talking to them," Heather says. "People deal with things in different ways, but some people are happy to sit there and talk about anything and everything because it's easy to talk to a stranger and they know we're not going to tell anyone." 
Ann and Heather alternate Wednesdays, so while they aren't usually on site at the same time there is always a volunteer available on BreastScreen Assessment Clinic days when patients attend to hear their results or undergo further screenings. 
"A lot of patients assume that it's only themselves who have been recalled for further tests or results, and might think that everyone else in the waiting room have come for their regular BreastScreen, so once you explain to them that everyone is there for the same reason, they tend to relax a little," Heather says. "They're all in the same boat." 
They say that quite often it's the patient's partner who needs a cup of tea or someone to talk to while in the waiting room. 
"We sort of become part of their lives for those couple of hours, on quite a personal level," Ann says. "The biggest thing is just being there and reassuring them. Being calm is really important, because we know they are sitting there worrying or thinking 'oh my gosh, what is happening?', so they don't need to see that from us." 
Ann doesn't always share her breast cancer experience with patients she meets at BreastScreen, but says it has given her an understanding of what they are going through. 
"I look at clients and see the fear in their eyes and think 'I've been there' – you know exactly how they're feeling and why," Ann says. "And when you say 'I've been there', the first thing they do is to touch you.  
"It's really interesting, it's like they look at and feel you, and can see that you're still alive." 
Heather says that in addition to the volunteer guidelines and training they receive, life experience helps a lot in being able to work with so many different people. 
"My favourite part is meeting all these wonderful people," Heather says. "I'm just stumped at how strong and brave they are. We wouldn't keep volunteering if we didn't enjoy it. 
"We do it because we love it." 
Ann agrees, saying that the cross section of people who come to the clinic is interesting, because she meets people from all walks of life. 
"In the end, people are all the same. They just wanted to be treated with respect and helped, and they don't want to be sick," she says. "The best thing is that I feel like I get more out of volunteering than I put in. 
"Don't put off your screening. BreastScreen absolutely saves lives." 
Ann and Heather are part of a team of more than 200 volunteers who give their time to Ballarat Health Services programs. 
Grampians BreastScreen provides free two-yearly screening mammograms to women and trans and gender diverse (TGD) people who are asymptomatic and aged 50-74. People aged 40-49 and 75+ are eligible for screening but should discuss their individual risk factors with their doctor first.