Ballarat's medical students take on trial into pain medicine
Thursday 8 September 2022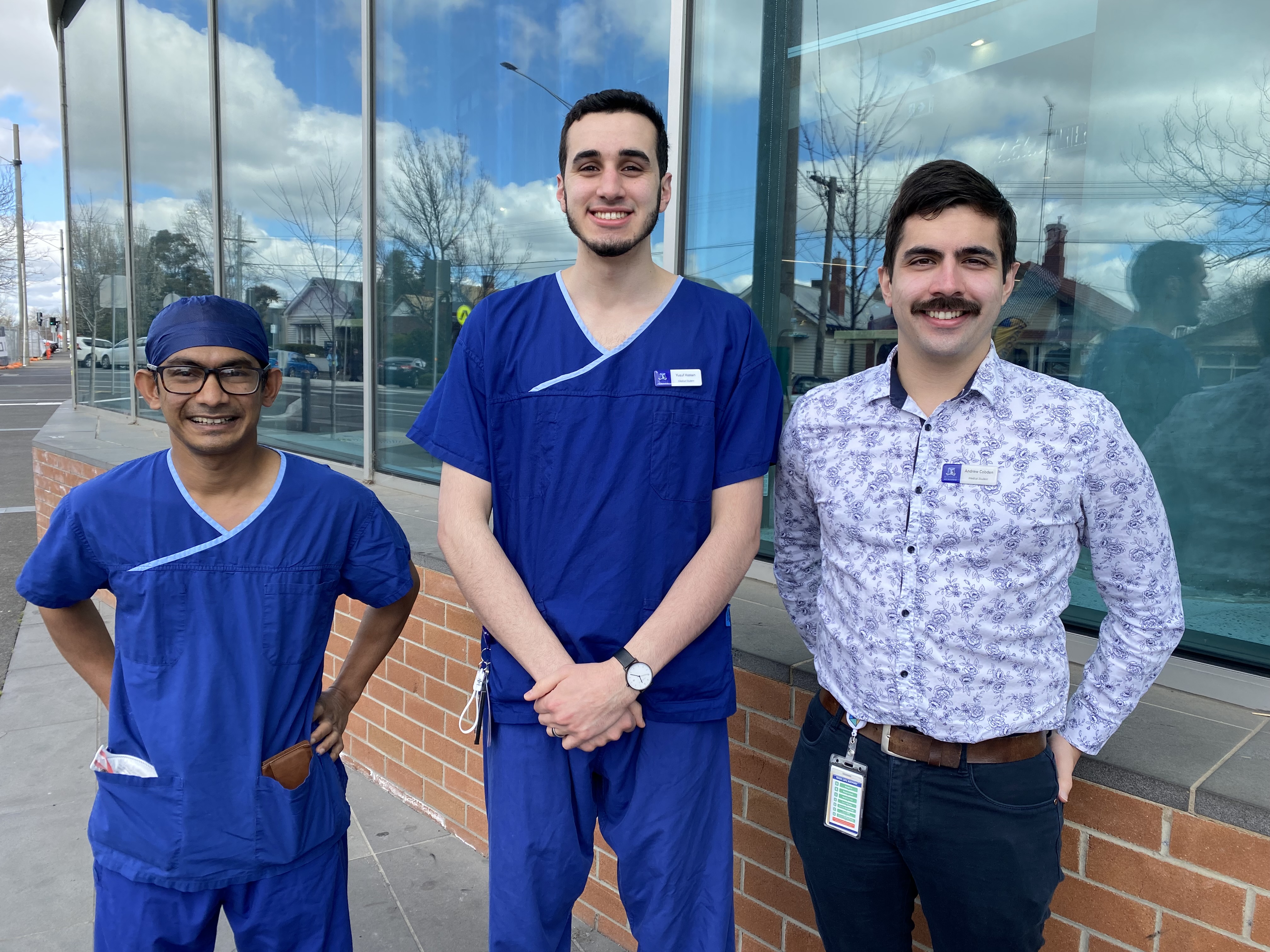 Grampians Health is excited to take part in an international study into pain medicine prescription and use after surgery, with medical students and junior doctors taking the lead.
The Opioid PrEscRiptions and usage After Surgery (OPERAS) study is an international, multi-site, observational study with junior doctors and medical students gathering data from the patients taking part in the study across many hospitals around the world. 
With 161 hospitals involved, including in Europe, the Middle East, Australia, and New Zealand, Grampians Health is one of 82 hospitals in Australia participating in the study. It's a unique and exciting opportunity for medical students and junior doctors in regional Victoria. 
Medical students from Deakin University and the University of Melbourne who are completing their placement at Grampians Health are taking the time to be part of this unique research opportunity. 
"We have a team of 24 medical students, two junior doctors as subspecialty leads, and a team of three supervising consultants across general surgery, orthopaedics, and urology," said final year University of Melbourne medical student Yusuf Hassan.  
Mr Hassan is completing his placement at Grampians Health and stepping into the role of Site Investigator under the supervision of Grampians Health's Principal Investigator, Dr Naveen Nara. 
After major surgery, most patients get sent home from hospital with medications to help with pain management and a suggestion to follow up with their surgeon or regular doctor if they need to. What makes this study unique is the seven-day follow up phone call with patients after their operation.  
"Often patients will have major surgery and get discharged with opioid pain medication to take as needed and you never know how much they're taking. They might have taken one tablet, they might have taken ten; the GP might have given them another script for it. 
"So that's really the main thing we're looking for, and obviously risk factors for why some patients would be taking more and why others wouldn't, whether it's particular procedures or their pain tolerance," Mr Hassan said. 
The OPERAS study will compare the type, amount and length of use of prescribed opioids for pain management after surgery to what is actually used by patients at seven days after being discharged from hospital. 
For many doctors and surgeons around the world, it's unclear whether the opioid pain medication prescribed after surgery is the right amount for the patient or more than what they need. 
"I know there's been a big push against overprescribing these days and there's really great work locally at Grampians Health to reduce opioid prescribing rates. I think data like this, especially talking to patients and knowing how much they're taking post-op will be really helpful in reducing unnecessary opioid use." 
With opioid use around the world increasing in the past few years, and opioid-related deaths in adults in Australia increasing by 3.8 per cent per year since 2007, this study will be an important tool to see how doctors can avoid opioid overprescription, which can contribute to opioid misuse. 
The research study started in April and will end in July. Over the next few months, there will be four data collection period where medical students and junior doctors will make calls to their patients to discuss their pain management after leaving hospital. 
"It's interesting to look at doctors and their prescribing rates, but it could also be a symptom of a culture at a hospital, or a certain region, or different specialities using different kinds of opioids. And some surgeries are more major than others: a laparoscopic appendectomy [removal of the appendix] is very different to major orthopaedic or urological surgery, so that has to be factored in very closely," Mr Hassan said. 
While the OPERAS study will primarily look at how much pain medicine is prescribed to patients after they are discharged from hospital and how much they actually take and need to manage their pain, the study also hopes to identify risk factors for overprescription and overconsumption and variations in prescription rates for different operations and surgical areas. 
"This study will add to the toolkit to better understand the opioid epidemic that we're facing and ultimately have better outcomes for patients. We train to be doctors to do the best for our patients, and this research will try to understand if we're doing more harm than good with our prescribing rates," Mr Hassan said. 
This study is also highlighting research opportunities for students at hospitals outside of metropolitan Melbourne. 
Determined to show what's on offer at regional hospitals, Mr Hassan is the Vice Chair of the Rural Surgical Student Society, and is hoping they can bring more collaborative research opportunities like OPERAS to regional Victoria. 
"We established a rural surgical collaborative last year aimed to host projects just like this one. We wanted to change the perception that there weren't as many opportunities outside of metro hospitals so having access to initiatives like OPERAS that's collaborative across many sites and easy for us to get involved in was great. 
"I think the next steps for our collaborative would be locally run research where we are involved in the study design and protocol development," Mr Hassan said. 
All data collected by junior doctors and medical students will be added anonymously to the research database run by OPERAS' managing research organisation Trials and Audits in Surgery by Medical Students in Australia and New Zealand (TASMAN).  
TASMAN's data analysis committee will review the data from all sites around the world, with results to be released by in October this year. 
"It's been a very beneficial and insightful experience and will be good for future research opportunities for myself and other medical students," Mr Hassan said.