Ballarat Health Services Foundation to double all donations at Adroit Insurance & Risk Annual Charity Golf Day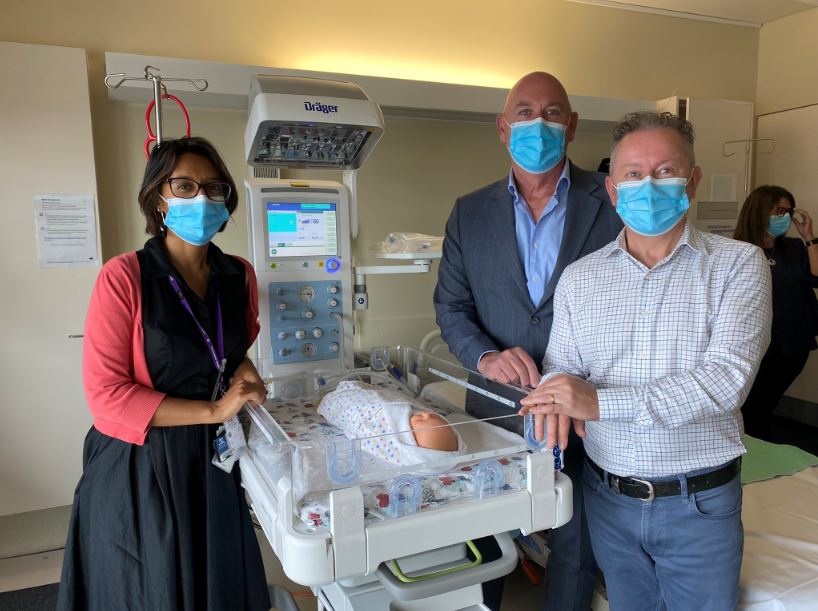 Adroit Insurance & Risk is hosting the annual charity golf day on 24 March 2023 to raise funds to help Grampians Health Ballarat to purchase two infant resuscitation cots.
Infant resuscitation cots are used for any newborn that requires life-saving intervention and are used in the Maternity Unit and Special Care Nursery and in clinical emergencies in the Emergency Department and the Operating Theatre. They are an essential piece of equipment during the golden hour – the first hour of life or resuscitation – and can be used for newborn, premature, low birth-weight or for those who are very unwell.
Grampians Health Ballarat currently has 10 resuscitation cots – five in maternity, two in Special Care Nursery, one is Paediatrics and one each in the Emergency Department and the Operating Theatre. The funds raised through the golf day will be used to replace the older models in Emergency Department and the Operating Theatre.
Infant resuscitation cots have a well-fitted mask which is placed over the baby's nose and mouth to deliver a blend of oxygen and air which can be altered to the baby's needs. These new state-of-the-art resuscitation cots deliver breaths to the newborn in a more safe and secure way. Their functionality allows the clinical team to collaborate in completing assessments, while still protecting the baby's fragile airways and bringing their breathing under control.
The cot's automatic heat lamps and warmed mattress help stabilise the baby's body temperature, which aids in recovery. These newer models also have an in-built pulse-oximeter, scales and a tray for x-ray plates, which reduces the need to move babies who are very unwell. They are also Electronic Medical Record compatible, which further future-proofs the equipment.
Dr Shabna Rajapaksa, Co-Director of Paediatrics at Grampians Health, instructs both the NeoResus course and Advanced Paediatric Life Support (APLS) course to health professionals.
"Having access to these state-of-the-art cots in Emergency and Operating Theatre means we can provide the highest level of care to our youngest, most vulnerable patients in these clinical emergency settings," Dr Rajapaksa said.
"For me, their biggest advantage is how these new cots facilitate teamwork between clinicians, leading to better outcomes for our tiniest patients."
The decision to fundraise to purchase these infant resuscitation cots is consistent with Adroit Insurance & Risk's commitment to child development and wellbeing in our community. Steve Coltman, Director of Adroit Insurance & Risk, said he is delighted to be partnering again with Grampians Health Ballarat and Ballarat Health Services Foundation.
"Our annual charity golf day is a highlight of Adroit Insurance & Risk's calendar. We are excited to be continuing our successful fundraising partnership which began with the redevelopment of the Children's Ward through Run Ballarat, 13 years ago," Mr Coltman said.
This year, Ballarat Health Services Foundation has generously agreed to match all funds raised on the day, dollar-for-dollar.
"As the fundraising arm of our health service, I see the ongoing impact donations can make to the provision of public healthcare in our community," said Lindsay Florence, Chair of the Ballarat Health Services Foundation.
"Adroit and the health service have a great relationship over the years. We would like to acknowledge and match their commitment to children's health services in our community. The Ballarat Health Services Foundation is delighted to match every dollar raised on the day to help replace the fleet of infant resuscitation cots, the first of which was purchased during the redevelopment of the Children's Ward."
The golf day will feature 18 holes of golf, a brunch and on-course BBQ, and will finish with a charity auction. Auction items include a signed Western Bulldogs jersey, cubby houses, an Eclipse Ford Weekend drive experience, Aesop hampers, Bruny island accommodation, Midlands Golf Club membership, Haymes Paint and vouchers from many other local businesses. All auction items have been generously donated.
For more information about the golf day, please contact David Edwards at Adroit Insurance & Risk on davide@adroit.com.au or 0409 388 266.