Appointment of Life Governors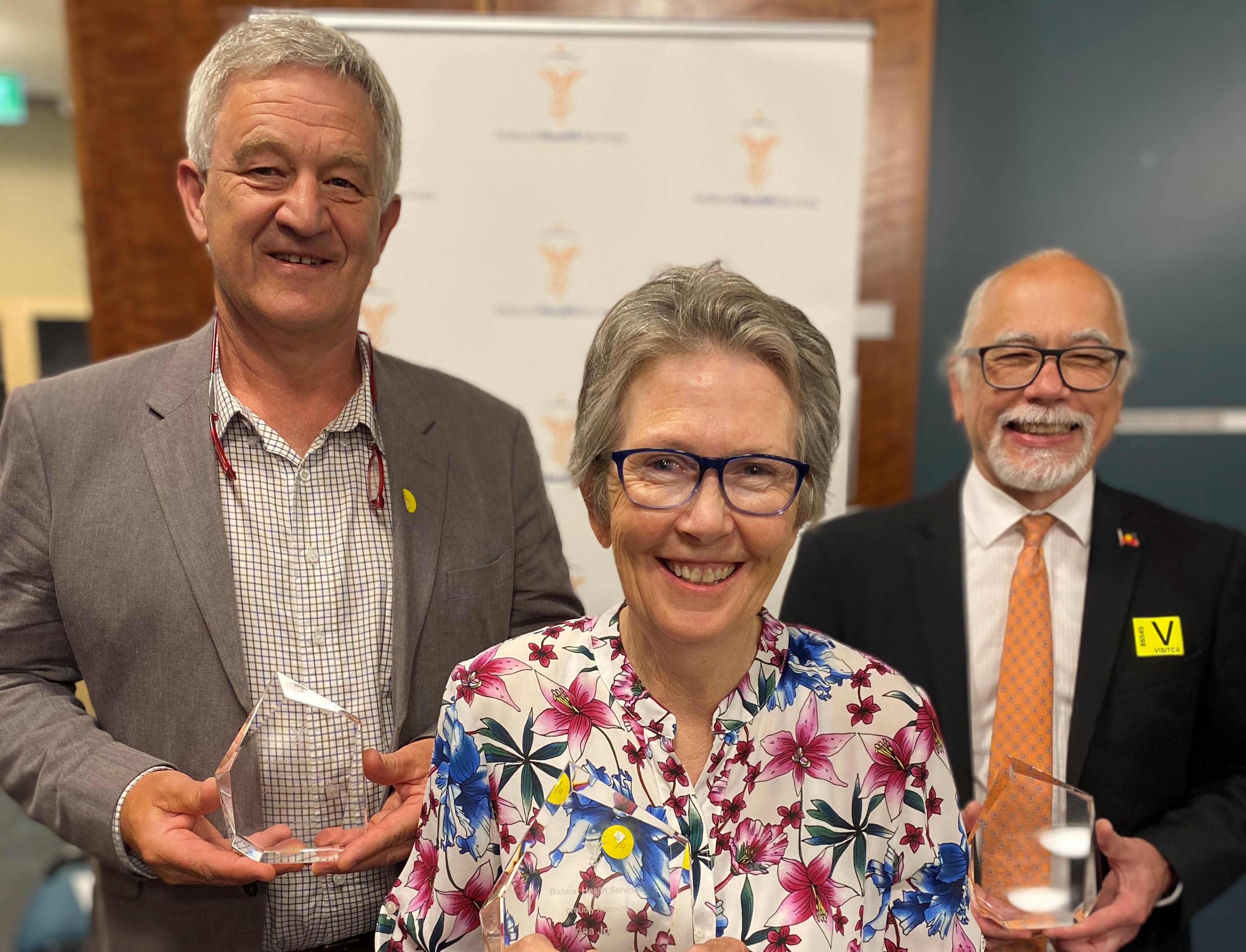 Life Governors 2019-2020
The appointment of Life Governors is an honour that the Ballarat Health Services Board bestows on those who have demonstrated outstanding commitment, dedication, and support to the organisation.
"Formally recognising the significant contribution staff, volunteers, and community members have made to our health service is an annual highlight.  The award is a prestigious one, and in 2020 we were thrilled to acknowledge three very worthy individuals" said Board Chair Natalie Reiter.
Life Governors are recognised for their impact on BHS through philanthropic, employment and/or volunteering endeavours.
"We are in the fortunate position of having outstanding staff, volunteers, and financial supporters here at BHS," said Chief Executive Officer Dale Fraser
"It is important that our community has a chance to thank these individuals for the selfless commitment they have shown, generally over many, many years. Trina, George, and Tony each contributed in different but vitally important ways, and we thank them whole-heartedly".
Trina Jones was recognised for her service to BHS both as a staff member and as Treasurer of the Trained Nurses League for the past 13 years.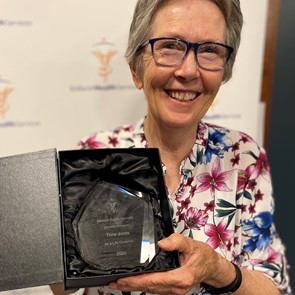 Trina has been instrumental in ensuring that the legacy and history of the League lives on. Through her work, honour boards recording the names and dates of the serving Matrons and Principal Tutors were commissioned and are now on display in the foyer of the BHS Education Resource Centre.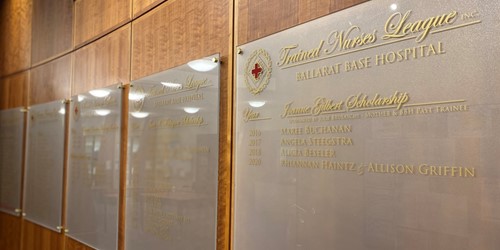 As the organisations' archivist, she has tagged, photographed and catalogued Ballarat Base Hospital equipment and memorabilia, and has ensured accurate and thorough recording of more than 1,400 items on Victorian Collections, including photographs, histories, and other collectible items that make up our rich history of nurse training in Ballarat.
Trina organises support for the hospital by way of voluntary community service, raising donations for the BHS Foundation and Good Samaritan Fund each year, and two scholarships to further the training of nurses - the Jean Finlayson Scholarship for General Nursing, and the Joanne Gilbert Scholarship for Maternal and Child Health.
She also documented the names of all nurses who trained at Ballarat, and was successful in obtaining a grant for the Ballarat Base Hospital Trained Nurses League's soon to be published book 'Who taught the Nurses?' detailing the history of educators at the Ballarat Base Hospital.
Trina has described her work as "a labour of love" and in turn has been described as "the backbone of the place".
George Fong has dedicated 15 years to the Ballarat Health Services Foundation Council, using his extensive professional experience and commitment to guide and support the Foundation to grow corpus of funds to $5 million.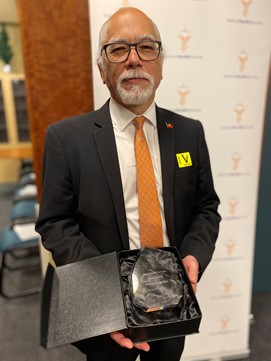 Appointed to Ballarat Health Services Foundation Council in October 2005 George Fong has served as Council member and immediate Past Chair.
In his professional life, George is a Director of Lateral Plains Pty Ltd - a strategic IT business focusing on ICT strategies, implementation, and integration within regional communities.
George also serves the community of the Ballarat and Grampians region as:
Co-founder of the first regional Internet Service Provider in Australia - NetConnect Communications
Council member and former Deputy Chancellor of Federation University Australia
Chair of Central Highlands Regional Partnership Committee
member of the Victorian Government's Regional Development Advisory Group
member of the advisory board for .au Community Domains
past Chair of the Ballarat Regional Multicultural Council
past member of the Courier Advisory Board
and member of IPV6 Now
George has remained a consistent guiding presence at the Ballarat Health Services Foundation Council, and at a time when he has indicated his time with Foundation is coming to an end it is fitting to acknowledge his commitment and dedication to health services in our region with a Life Governorship of Ballarat Health Services.
Dr Tony Sutherland is the former head of Intensive Care at Ballarat Health Services (formerly Ballarat Base Hospital).  He was the first specialist intensive care physician in Ballarat and acted as Director for more than 30 years.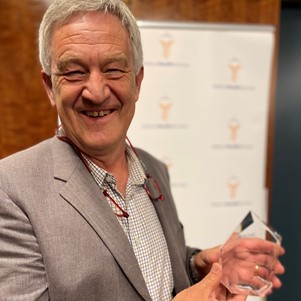 He set up the current Intensive Care Unit (an exceptional ICU for the size of the hospital) and he established MET teams located within the ICU, at all times acknowledged the strength of his team. 
Dr Sutherland recognised the key ingredient for excellence in intensive care was the quality of the critical care trained bedside nurse. While COVID-19, catapulted this realisation to the front of ICU care across the world in 2020, Dr Sutherland recognised this and acted 30 years ago. He actively encouraged and advocated for nurses to not only gain critical care qualifications but also to develop autonomy at the bedside.  Thanks to Dr Sutherland and his leadership, BHS has one of the most highly trained and effective nursing teams in Australian intensive care.
He was a very astute clinician and an expert respiratory physiologist. His views and understanding on invasive ventilation resulted in Ballarat enjoying ventilation methods that were the world's best.
Dr Sutherland was also an early advocate for patient choices and dying with dignity.  He developed a passion for patient choices in health care, and was deeply concerned at the alarming intensity of health delivery at the end of life, and whether this constituted 'care'. Although these concepts are now widely discussed, it was often challenging for others to be dragged ahead by Dr Sutherland. 
He worked in and adapted to 3 ICU settings in his time at BHS, ensuring at all times that patient-centered care was the guiding principle for his team.
Further, he recognised the need for collaboration with the ICU at St John of God Hospital and worked on a model that reduced the risk to patients and maximised patient outcomes – literally building a bridge between the two hospitals.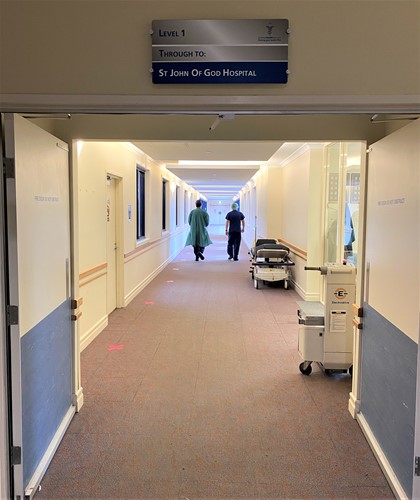 Dr Sutherland was effectively the father of intensive care medicine in Ballarat. He matched clinical excellence with a clarity of vision, which will ensure his legacy to Ballarat will endure.