Grampians Health Ballarat is committed to improving access to healthcare services for patients who live in regional, rural and remote areas through the use of video-call between you and your clinician.
What is Telehealth?
Telehealth is the use of video-call between you and your clinician.
Telehealth reduces travel time and cost for patients, while also removing the stress of travel and provides a greater accessibility of specialist services to patients.
Telehealth is available to Medicare card holders and consultations can be bulk-billed.
Start a Telehealth call
PLEASE NOTE : Telehealth services are supported in the following web browsers - Google Chrome Version 72+ (Windows, Android, MacOS) Apple Safari Version 12+ (MacOS, iOS), Firefox Version 68+ (Windows, Android), Microsoft Edge Version 79+ (Windows, MacOS) and Microsoft Edge Version 44+ (Android).   
If you have received your appointment time and are ready to start your appointment :
Select the appropriate section below.
Click on the relevant Telehealth Clinic waiting room button.
Please start your video call 5-10 minutes before your appointment time.
Benefits of Telehealth
Less or no travel time.
Your appointment can be conducted anywhere, including in your home or with your local healthcare professional.
Less disruption to your usual routine.
Increased independence.
Video calls are secure and private.
There is no additional cost to you to be seen via Telehealth - please note however that data usage costs may apply.
What you need to make a video call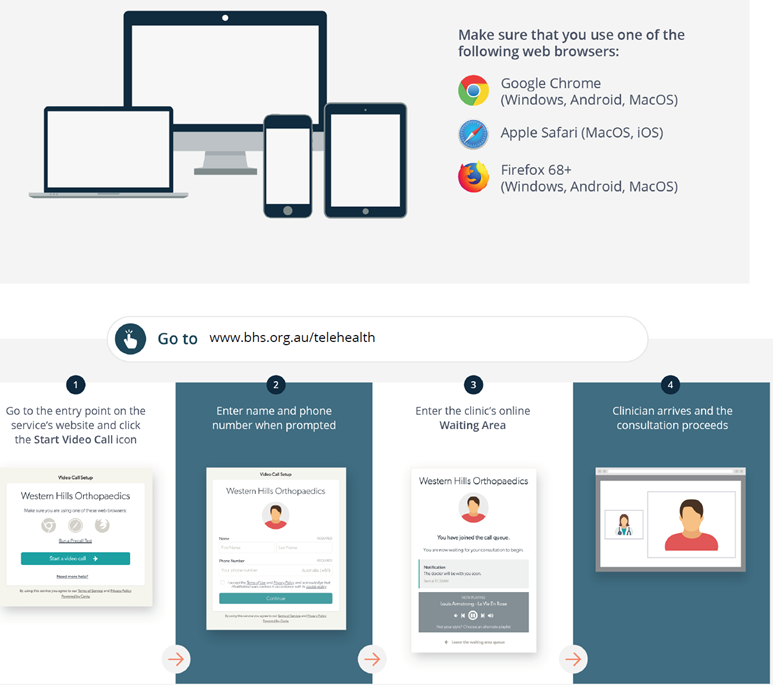 Video call process for patients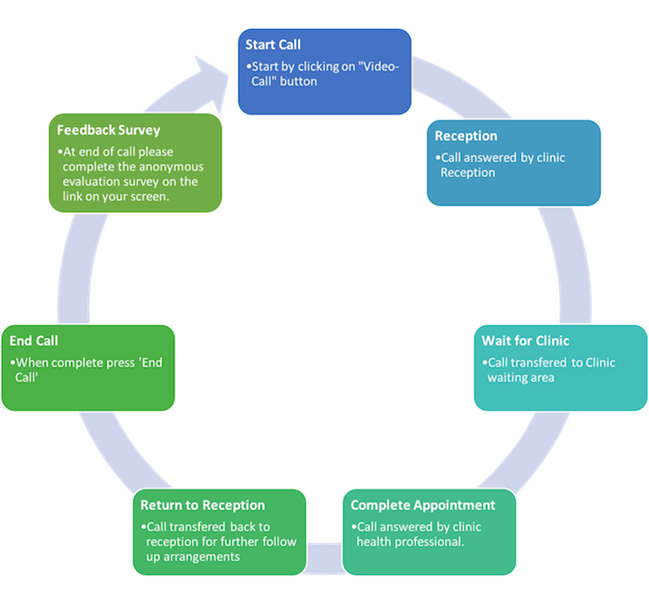 Benefits for the community
Test your video calling equipment
Information for: 
Desktop computers
Laptop computers
Android tablets
Smartphones
The Video Call Setup test checks your web browser, the speed of your internet connection, and whether your microphone, speakers, and web camera are working as expected. Click the following button to run the test:
If the test results indicate issues with your current setup, please see the Help Links and Documents at the bottom of this page for troubleshooting documents.
Have something to tell us? We welcome all feedback from patients, family members or carers. Tell us more.