Welcome to Ballarat Health Services' Men's Health Website, we encourage you to explore the resources and take some time to look after both your physical and mental health, and the health of those around you.
It's time to make your health a priority, check out how you can take a SNAP SHOT of your health.
  S   N    A    P     S   H    O   T








Men's Health Week Program - Introduction
Introduction from Ballarat Health Services Executive Director, Primary and Community Care, Craig Wilding.
BHS encourages you to take a SNAP SHOT of Your Health
Smoking
To quote our friends at the Prostate Cancer Foundation of Australia (www.pcfa.org.au):
"We're not even going to lecture you. If you smoke, quit."
To get support to stop smoking, Ballarat Community Health and Quit Victoria have helpful tools to help you understand your smoking habits, and choose the best way to quit.
Nutrition 
Each day try to eat a varied diet that concentrates on fruits, vegetables, wholegrains, legumes, dairy foods and lean meats. Try to limit intake of processed foods and drinks, as these are often high in saturated fat, sugar and/or salt and impact our health. The table below displays how many serves from each of the food groups to aim to eat each day to promote good health and ensure adequate intake of nutrients, vitamins, minerals and fibre.
How many serves of each food group do I need?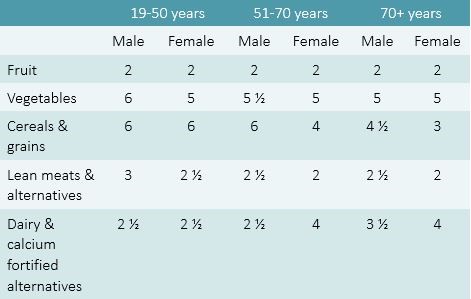 For more information on the serving sizes see What is a serve?
What should I drink?
Water is your best choice! Water does lots of good things for your body, it: 
keeps your body hydrated
helps with digestion
boosts your concentration levels
doesn't add any extra energy or sugar, so it's great for your teeth, and your weight!
Try to aim for approximately 8 glasses (2 litres) per day, unless your doctor has prescribed a different volume.
Want to find out a bit more about sugary drinks…check out this poster which shows much how sugar is in your drink.
Weight management
Eating a balanced, nutritious diet and being physically active is the best way to stay healthy, maintain a healthy body weight and help reduce your risk of disease.
If trying to lose weight avoid crash dieting, which is a short-term solution and over the long term can increase your body fat.  Instead try to make small changes to your eating habits and activity levels that you can maintain for the long term:
Avoid dieting and over-restrictive eating.
Make breakfast an everyday occurrence - a healthy breakfast sets you up for the day, helps memory and concentration, can boost your intake of calcium and fibre, and reduce hunger and overeating.
Try to listen to your body's hunger and appetite signals. Try to avoid non-hungry eating or using food for other reasons such as comfort or boredom.
Increase your fruit and vegetable intake – aim for two fruit five veg daily, they are low in energy and high in fibre, helping you to feel full.
Try to make soft drinks, lollies and snack foods an occasional 'extra' rather than part of a daily diet. Replace sugary drinks with water.
Cut down on saturated fats and alcohol, both are energy dense and contribute to weight gain, particularly around the stomach.
For a healthy approach to weight loss see: Weight loss - a healthy approach - Better Health Channel
If you would like assistance with weight management BHS offers the Healthy Weight Management Program, details can be found here.
Alcohol and other drugs 
Cheers… to drinking in moderation!
Do you enjoy a drink, but you've been wondering about how it affects your health?
Some ways to look after your health are to aim for:
3 alcohol free days per week
Drinking fewer than 4 standard drinks on any day
No more than 10 standard drinks in a week
Walk, Uber, taxi or take it in turns to be the designated driver.
Here's some tips to reduce your risks, from the Australian Alcohol and Drug Foundation
Drink water or other non-alcohol beverages between alcoholic drinks
Avoid drinking in rounds with friends, as you may end up drinking more than planned
Order smaller serves of beer, cider and spirits; rather than pints or double serves
Don't allow others to top up your glass if you're sharing a bottle of wine as you may lose track of how many drinks you've consumed
Avoid high-alcohol content beverages, such as stronger beers or wines, and spirits
Eat some food before and while drinking, to slow your drinking pace and slow the absorption of alcohol
Occupy yourself while drinking to reduce the amount you're consuming: play pool, sing karaoke, dance, talk to friends.
A standard drink may be less than you think. You can find out more about what a standard drink is here.
If you find you're drinking more than the recommendations, or you're struggling to limit how many alcoholic drinks you have, please talk to your GP. There is also help available online.
Is your use of drugs or prescription medications affecting your life in a negative way? You can talk to your GP to seek help and you can also phone or seek online help through Directline - a 24-hour telephone counselling, information and referral service for anyone in Victoria wishing to discuss an alcohol or drug-related issue. This is a helpful place to assess whether drugs are a problem for you.

 1800 888 326 
Physical Activity
Get moving … for your health
Being active, playing sport and regular exercise are great for both your physical and mental health. Aim for 30 minutes of physical activity each day.
Find the National Adult Physical Activity guidelines here.
Haven't been active for a while? Here's some tips to get started:
Start small; for example go for a short walk, and then gradually increase the time you spend walking as you build your fitness
Need some advice about how to be more active when you're living with a chronic health condition, or recovering from an injury? Talk to your GP, or seek the advice of a physiotherapist or exercise physiologist
Join Get Active Victoria to find free ways to get active. There's something for everyone of any age to enjoy.
Skin
Be sun smart. Remember to slip slop slap to prevent skin cancer. Check your skin after a shower for any new markings, freckles or moles, see your GP if something changes. For more information about how you check for signs of skin cancer, or the ways you can prevent skin cancer and protect yourself from the sun, see the helpful information about sun safety at the Cancer Council website.
Health Checks
Your GP:
Find a GP you feel comfortable with and can chat to about any concerns you have. Check in with your GP, at least once a year!
If you do not have a regular GP you can search for one on HealthDirect.
Check these each year with your GP, or more often if you concerned or have symptoms:
Weight and waist measurement.
Blood pressure and cholesterol.
A skin check from your doctor if you notice any changes to your skin that may indicate skin cancer
Sexually transmitted diseases.
Discuss any reproductive and sexual health concerns.
If you're thinking about having a baby, discuss preconception health and fertility check.
Mental health — talk about any concerns you have, or if you're feeling pressured, or relationship challenges
Constipation that doesn't get better with diet and exercise changes.
Sudden or unexpected loss of bladder and or bowel control, this is a common health concern and can be well supported.
Visit your dentist for a mouth and teeth check-up every 6-12 months or as recommended by your dentist.
Get your eyes checked with an optometrist every two years
Open Up about your Mental Health
Your GP is a great resource to find support for your mental health. GPs help people to achieve better mental health every day, and can guide you to access the best services for you.
In Australia, we also have some amazing organisations that lead the way for promoting mental health. Links to the websites for BeyondBlue and Lifeline are listed below. Each of these websites has a range of resources, files, audiorecordings and videos to support you. You can also connect via chat or phone to seek individual support.
BeyondBlue 1300 22 4636 
Lifeline 13 11 14
By answering a few questions at the link below, you can find out more about anxiety and depression and some recommendations that might help you.
If you need urgent mental health support for you or a loved one, you can contact BHS Mental Health Service on 1300 247 647 (24 hours).
Ballarat Health Services Mental Health team work in partnership with individuals, their family and other supports to meet the needs of each individual, to create hope and assist the person in their journey towards a meaningful life within their local community.
If you're looking for some help with supporting others to access mental health support; BeyondBlue has some helpful information for you.
Take the time to invest in your health and the health of those around you 
Value your relationships and yourself. Talk with your friends about any emotional problems. Look after your friends and family when they are feeling down. Build healthy relationships and support mental wellbeing by socializing and participating in activities with others. Join a local community group or team, and make time with family and friends.
Kick start your own health with an app. VicHealth have road-tested some of the healthy living apps that are now available. Check out this link for the top-rated apps, and get started on your own.
Connecting with your GP
Dr Malcolm Anderson
General Medical Practitioner
Malcolm Anderson has been a GP for over 45 years, working mainly in Rural Victoria and now, apart from other roles, working in the Ballarat Health Services GP Liaison Unit since its inception almost 11 years ago.
Smoking Cessation
Brett Vallance
Drug and Alcohol Nurse Practitioner
Ballarat Community Health Centre
Brett has been working in the field of drug and alcohol withdrawal for the last 17 years.  On receiving his endorsement as a Nurse Practitioner in 2017 he commenced the Drug and Alcohol Nurse Practitioner Clinic at Ballarat Community Health.  Through this clinic he supports people with smoking cessation.
The Importance of Exercise
Luke Evans
Exercise Physiologist
Exercise Therapy Department/Allied Health
Luke has 12 years' experience as an Exercise Physiologist at Ballarat Health Services. This has included working across varies programs including Cardiac and Pulmonary Rehabilitation, Oncology Services as well as the BHS Staff Fitness Program.
Your mental health
Dr Sarah McKinnon
Senior Clinical Psychologist
Psychology Department, Ballarat Health Services
Dr Sarah McKinnon completed her Doctorate of Psychology Clinical at The University of Melbourne in 2001 and has worked in public health since the completion of her training as well as part time private practice.  Sarah has worked across a range of programs at BHS, with her current programs including Community Rehabilitation, Oncology outpatients and the Why Wait for Wellness program.
Eating Well
Rebecca Nunes
Accredited practising Dietitian (APD)
Ballarat Health Services
Ballarat Regional Integrated Cancer Centre
Rebecca Nunes graduated from Deakin University in 1995 with a Masters in Nutrition and Dietetics. She has worked at BHS for over 20 years, specialising in her passion of Oncology for the past 15 years. Rebecca is a keen contributor to student teaching, and actively involved in clinical research within BHS and the broader Victorian oncology community. Rebecca is a strong advocate for the multidisciplinary management of nutrition related issues within the cancer population.
National Men's Health Resources
Looking for a health service in your area? The National Health Services Directory is an online resource for locating health practitioners near you.
Spanner in the works?
When's the last time you had a service>
More often than not, it's only when the aches, pains or emotions get the better of us that we decide to get things checked out by or mechanic (GP).
Mental Health Services and Support
See your GP for referral to a mental health professional.
Smoking Cessation
Read more about the health benefits of quitting smoking here.
This video shows the health benefits of stopping smoking.
Quit Victoria has helpful tools that can help you understand your smoking habits, and choose the best way to quit.
Ballarat Community Health also has local smoking cessation services.
Exercise and Men's Health Resources
Movember and Doctor Mike have done a great video about diagnosing and treating sitting disease. Watch it here.
Healthy Male
Healthy Male is a national organisation that provides easy access to the latest scientific and medical research on male reproductive and sexual health.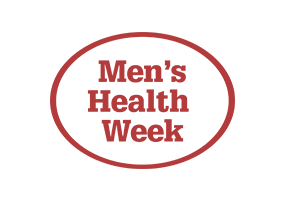 Men's Health Week Australia
Tips from Men's Health Week Australia for improving men's health outcomes:
Be active in getting medical help if you don't feel well, have a problem that won't go away or notice unusual symptoms.
It's OK to seek help - don't try to do everything on your own or bury problems. Talk to your family, friends and workmates.
Push hard to get the help you need to manage your life, work, family and financial needs.
Friends and families should be proactive in helping your men and boys get the help they and you need. Use available hotlines, speak with professionals to get the best course of action and be persistent.
Don't leave it too late to seek help. Fear is not a killer.
COVID-19 Disclaimer
In response to the challenges and restrictions COVID-19 has presented, BHS is adapting with agility to offer digital resources and services. Our clinicians have filmed these videos themselves, on their own devices, which has allowed this resource to be produced promptly, without requiring face-to-face interactions. Please note, the media quality will reflect this.
Have something to tell us? We welcome all feedback from patients, family members or carers. Tell us more.