Family Violence and Child Information Sharing Schemes
The protection, safety and wellbeing of adults and children, within our community, is a priority for Grampians Health Ballarat.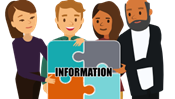 Under Part 5A of the Family Violence Protection Act 2008 and Part 6A of the Child Wellbeing and Safety Act 2005, Information Sharing Entities (ISEs) and Risk Assessment Entities (RAEs) can request information to assess and manage family violence risk, and/or to promote a child's wellbeing or safety.
How to request information
If you are an authorised Information Sharing Entity, or Risk Assessment Entity, a request for risk relevant information under FVISS and CISS legislation can be made from Grampians Health Ballarat via the following process:
The request can be made via the document below and emailed to ISS@bhs.org.au
Download the Information Sharing Request Form
Family Violence/ISS Request Form
PDF 390.9KB
Need more information?
To learn more about Family Violence Information Sharing Scheme (FVISS) and Child Information Sharing Scheme (CISS) visit the Victorian Government website:
Information sharing and MARAM reforms
Please note:
The requesting ISE must comply with consent thresholds, where appropriate and applicable. 
The requesting authorised person/agency will need to be verified prior to the release of information under these schemes.
Have something to tell us? We welcome all feedback from patients, family members or carers. Tell us more.