Ballarat Health Services Board members
Chair
Natalie Reiter 
BBus (Marketing) BA (Psychology) MBA 
Director since 2016
Term of appointment 01.07.19 - 30.06.22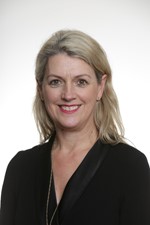 Natalie was appointed to the Board of Directors in 2016 and was Chair of the People & Culture Committee at BHS for three years.
Natalie is a past Board Member of North East Health and St Luke's Anglicare Bendigo. Natalie was previously General Manager City Strategy for the City of Ballarat, where she led the development of Today Tomorrow Together: The Ballarat Strategy, the long-term plan for Ballarat to 2040.
Natalie has particular expertise in strategy development to deliver transformational change, facilitation and strategic and business planning. Natalie's skills lie in seeing the big picture, translating numbers into strategy and maintaining a focus on achieving the desired outcomes for the project.
Natalie has published internationally on the topic of work-life balance and has a keen interest in fostering constructive culture in organisations.
Deputy Chair
David Miller 
DipCmmtyStud 
Director since 2015
Term of appointment 01.07.18 - 30.06.21
Director
Simon Bond 
GradCertTech GradDipInfoTech MACS CP MAICD 
Director since 2017
Term of appointment 01.07.20 - 30.06.23
Director
Dr. Peter Lynch  
M.B.B.S.(Melbourne), M.H.A.(U.N.S.W.), G.A.I.C.D.,F.R.A.C.P. 
Director since 2018
Term of appointment 01.07.18 - 30.06.21
Dr Peter Lynch joined the Board of Ballarat Health Services in July 2018 and has become a member of the Quality Care and Audit and Risk Committees. 
He has previously served on the Boards of Peninsula Health (2000-2004), the National Ageing Research Institute (1997-1998), Uniting Aged Care of Victoria  and Tasmania (2006-2008) and Frankston- Mornington Peninsula Medicare Local (2012- 2015).
He has worked as a clinical specialist Physician and Geriatrician in a wide variety of clinical, management and research positions in Victoria, Northern Territory and overseas in both the public and private sectors over the past 40 years.
As a Clinician /Manager he has held several Clinical Director positions at major public Metropolitan Health Services over the past 20 years.
He has been the author or co-author of 6 medical papers, published in peer review international medical journals between 1980 and 2009. He has presented or been a co-author of 21 scientific presentations at national and international medical conferences between 1979 and 2014. He has had several opinion pieces published in daily newspapers. 
He has been a member of the Pharmaceutical Benefits Advisory Committee (1987-1997) and the National Health and Medical Research Council (1992-1993).
He worked as Senior Medical Officer in the then AIDS-STD Unit and as Chief Medical Officer for what was then Health Department Victoria from 1989 – 1993 with wide ranging involvement and responsibility for a variety of services.
He has a particular interest in the quality and accessibility of health services, in good systems of clinical and corporate governance, in appropriate relationships between Governance Boards and executive management, in ethical and medicolegal issues and ensuring consumer rights in the delivery of complex health services.          
Director
Cora Trevarthen   
PostGrad Dip (Public History, Heritage), GAICD 
Director since 2019
Term of appointment 01.07.19 - 30.06.22
Ms Cora Trevarthen is the Advisor to the Vice-Chancellor of Deakin University.
Following her successful tenure as a group agribusiness executive at Webster Limited, Cora Trevarthen has more than fifteen years' experience in strategic advisory roles including regional development, creative industries, higher education and innovation.
Her high-level, applied policy instincts are complimented by effective communication and project leadership skills. 
Cora is a director of the Committee for Geelong and serves on the executive of the Ballarat chapter of the Australian Institute of Company Directors.   
Cora is an active researcher, member of the Alfred Deakin Institute and contributed to Australia's Gateway Cities:  Gateways to Growth which was launched in November 2019 by the Australian Minister for Population, Cities and Urban Infrastructure.
Director
Jane Poletti   
LLB, BSc, MMgt (Strategic Foresight), GAICD
Director since 2019
Term of appointment 01.07.19 - 30.06.22
Jane was appointed to the BHS Board of Directors in 2019 and serves on the Board's Quality Committee and chairs the People and Culture Board Committee.
Jane has more than 10 years of experience as a director on health-related Boards. She is currently a director of the Rural Workforce Agency of Victoria and was a director of BreastScreen Victoria for 3 terms. She has extensive board governance experience, which includes chairing the governance committee for both these organisations. She has also served on numerous advisory boards in the entrepreneurial sector.
Jane has extensive senior management experience working in high-growth and start-up organisations, undergoing significant transformation, both in Australia and internationally. Jane has substantive practical experience as a lawyer and business consultant, working with company boards and senior management across a range of areas, including commercialisation of intellectual property, internet enabled businesses, healthcare products/services and commercial property. She currently works as general counsel for an organisation that delivers online population demographic and forecasting solutions to government and private sector organisations, Australia-wide.
Jane developed a keen interest in public health during her time with BreastScreen Victoria and has pursued this interest through RWAV [its mission to make primary healthcare more accessible to rural and remotely located Victorians] and now BHS.  With her strategic foresight qualification and skill, Jane values a longer-term sustainable approach to problem solving and balances this with pragmatism, commercial considerations and evidenced-based thinking to make informed decisions.
Director
David Anderson    
B Comm, M Comm (Finance), FHFMA, GAICD
Director since 2019
Term of appointment 01.07.19 - 30.06.22
David Anderson has recently retired from Peninsula Health, where he was Chief Financial Officer from 2002 to 2018.  He retains an active interest in the sector with short-term roles and is currently a Director of the Royal Eye and Ear Hospital.
At Peninsula Health, David was responsible for all finance and accounting functions, as well as being responsible for payroll, supply and other corporate services; and was the executive responsible for the Finance and Resources Committee and the Audit and Risk Committee.  He also held portfolio responsibility for risk management.
David has also had an active involvement in the Healthcare Financial Management Association (HFMA) and was a board member of the association from 2013 to 2017.
David had previous experience in the Department of Health and Human Services, with responsibilities for financial analysis of health services, budgeting and health funding matters.  He had previous experience in water resources and irrigation, and also had experience in the economic and financial evaluation of projects for international aid agencies.
Director
Dr Lana Cormie    
BVSc Hons
Director since 2020
Term of appointment 01.07.20 - 30.06.23
Dr Lana Cormie is a long term resident, having been educated in Ballarat and returning to the region to raise her young family.
Lana is a Veterinary Surgeon and Honours graduate of Melbourne University. Her career has included working with isolated and also indigenous communities in remote areas on Australia, later pursuing a career in Animal Welfare as a Veterinarian for RSPCA in regional Victoria, including completing specialised training in the United States.
More recently Lana has been involved in advocacy work, liaising with government to bring about policy change, legislative reform and workplace safety improvements. Her work includes government advisory, Ministerial Taskforce appointment, membership of the inaugural Reference Group for work related fatalities and the formation of a Ministerial Consultative Committee. In addition, working for the Victorian Trades Hall Council to deliver health and safety training to regional Victorians.
As a rural woman and mother, Lana believes in the importance of our health service in Ballarat and the service it provides to our regional people.
Director
Heather Pickard   
Director since 2020
Term of appointment 01.07.20 - 30.06.23
Heather Pickard is a Registered Nurse with postgraduate qualifications in Addiction Studies and Organisational Management.
Over the past twenty-four years, Heather has worked as a registered nurse in drug treatment, and managed the suite of withdrawal services at Monash Health. She then established the Hospital Liaison Team in Acute Services (now known as Addiction Medicine) and oversaw the establishment of the Community Based Primary Health Care Clinic within the existing needle and syringe exchange program for substance users in the Southern Region.
Alongside the ANMF, she became involved in 2004 with a forum that met with the aim of establishing a program for nurses experiencing substance use disorders and mental health issues. Heather became the Chief Executive Officer of this organisation and was responsible for establishing the program in July 2006. The Nursing and Midwifery Health Program (NMHP), as it is now known, has a strong focus on recovery and providing opportunities for supported change, as well as building resilience within the nursing community.
In 2009, Heather became the CEO of the Self Help Addiction Resource Centre (SHARC), a role she continues to hold today. During this time, she also completed the Australian Institute of Company Directors course, and is currently the Chair of the NMHP. She is passionate about governance in not-for-profit, and advocacy for healthy workplace culture, as well as growing community partnerships that include service users in the design and delivery of quality care.
Have something to tell us? We welcome all feedback from patients, family members or carers. Tell us more.