Ballarat. Now and Into the Future 2022
Grampians Health is part of a new campaign seeking support for a series of transformational projects for Ballarat and the region.  Ballarat. Now and Into the Future 2022 is a co-operative campaign between nine of Ballarat's key organisations representing the health, education, tourism, commercial, local government and advocacy sectors. 
The projects will each bring city-wide and regional benefits including – jobs during construction, investment in our economy, improved health outcomes and transport connectivity, increased opportunities for Ballarat's tertiary sector, and enhanced offerings for visitors. 
The six transformational projects are: 
Community Mental Health Facility – a purpose-built facility to meet the rapidly growing demand for community-based mental health services in Ballarat and the Grampians Region.
Ballarat Major Events Precinct Expansion – a once in a generation opportunity to deliver a world class major events precinct for sport and entertainment.
Sovereign Master Plan Phase 1b – will deliver the next exciting stage of development at Sovereign Hill and boost visitation to Ballarat and the west.
Ballarat Link Road Next Stages – will complete a 12 km arterial to connect our rapidly building growth area and improve freight movement through Ballarat to four regional highways and key ports.
Ballarat University Town – will bring thousands of Federation University students to the Ballarat CBD each day by establishing state of the art teaching facilities at SMB Campus.
Circular Economy Precinct anchored by a Materials Recovery Facility – will develop a new precinct at the Ballarat West Employment Zone centred on a new facility to sort mixed recyclables from across our region so they can be repurposed by circular businesses into useful new products.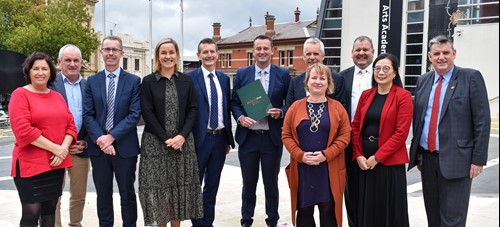 Community Mental Health Facility
The Ask
$15 million to construct a purpose-built Community Mental Health Facility for the Grampians Region to meet the growing demand for community-based mental health services.
Project Description
A purpose-built Community Mental Health Facility on the Ballarat Base Hospital site will enable the provision of mental health services to global healthcare standards for Ballarat and the Grampians region, a catchment area of more than 300,000 people. The new facility will house Grampians Health's mental health services, which offers a comprehensive mental health assessment and short-term treatment and care interventions for people with mental illness in crisis. It will also offer ongoing support for people with prolonged and severe mental illness who may require longer periods of treatment and support. The project will enable community mental health to relocate from the existing facility at the Queen Victoria building, which is more than 120 years old, has not had recent significant investment and is not suitable to provide these services. The facility will help to ensure that Grampians Health can meet rapidly-rising demand for mental health services and the significant projected growth in demand over the next 20 years. Population growth, declining services in rural areas and the continuing increase in mental health conditions in the broader community are putting pressure on existing services.
Community Benefits
The Queen Victoria building, which houses the existing Community Mental Health Facility is not fit for purpose and has significant constraints in relation to space, access, and safety for staff and patients. A new purpose-built community mental health facility will enable delivery of patient-centric care – that is, the right care at the right time and in the right place. This new facility will enable the provision of early intervention services in a community-based setting which allows the best opportunity to avoid care in a hospital environment. A new facility will enable community mental health staff to be co-located, helping overcome challenges in recruiting new staff due to inadequate space and facilities at the current site. Relocating community programs from an acute site meets best practice standards and helps avoid adding to the stigma associated with mental health.
Economic Benefits
The $15 million project will create significant economic benefits and jobs for Ballarat and the region during an estimated 18-month construction phase. With boosted Victorian Government funding announced for the Victorian mental health system, staffing requirements for Grampians Health's mental health services are estimated to increase by between 50 per cent and 75 per cent, or approximately 150 staff. A contemporary, community-facing facility will help to accommodate current staff and the significant increase in personnel required to deliver an expanded service that is responsive to current and projected future demand.
Environmental Benefits
The new facility will be built to contemporary and rigorous environmental standards to maximise energy efficiency and reduce carbon emissions.
Potential for Staged Delivery
Grampians Health has undertaken a significant amount of work on developing this project and once funding is committed development would begin immediately with an 18-month construction time frame.
The nine Ballarat organisations supporting Ballarat. Now and Into the Future 2022 are: 
Australian Catholic University
Ballarat Regional Tourism 
Central Highlands Water 
City of Ballarat 
Commerce Ballarat 
Committee for Ballarat 
Federation University 
Grampians Health 
Sovereign Hill 
Visit www.ballaratnow.com for more information.
Have something to tell us? We welcome all feedback from patients, family members or carers. Tell us more.