COVID-19 Vaccination rollout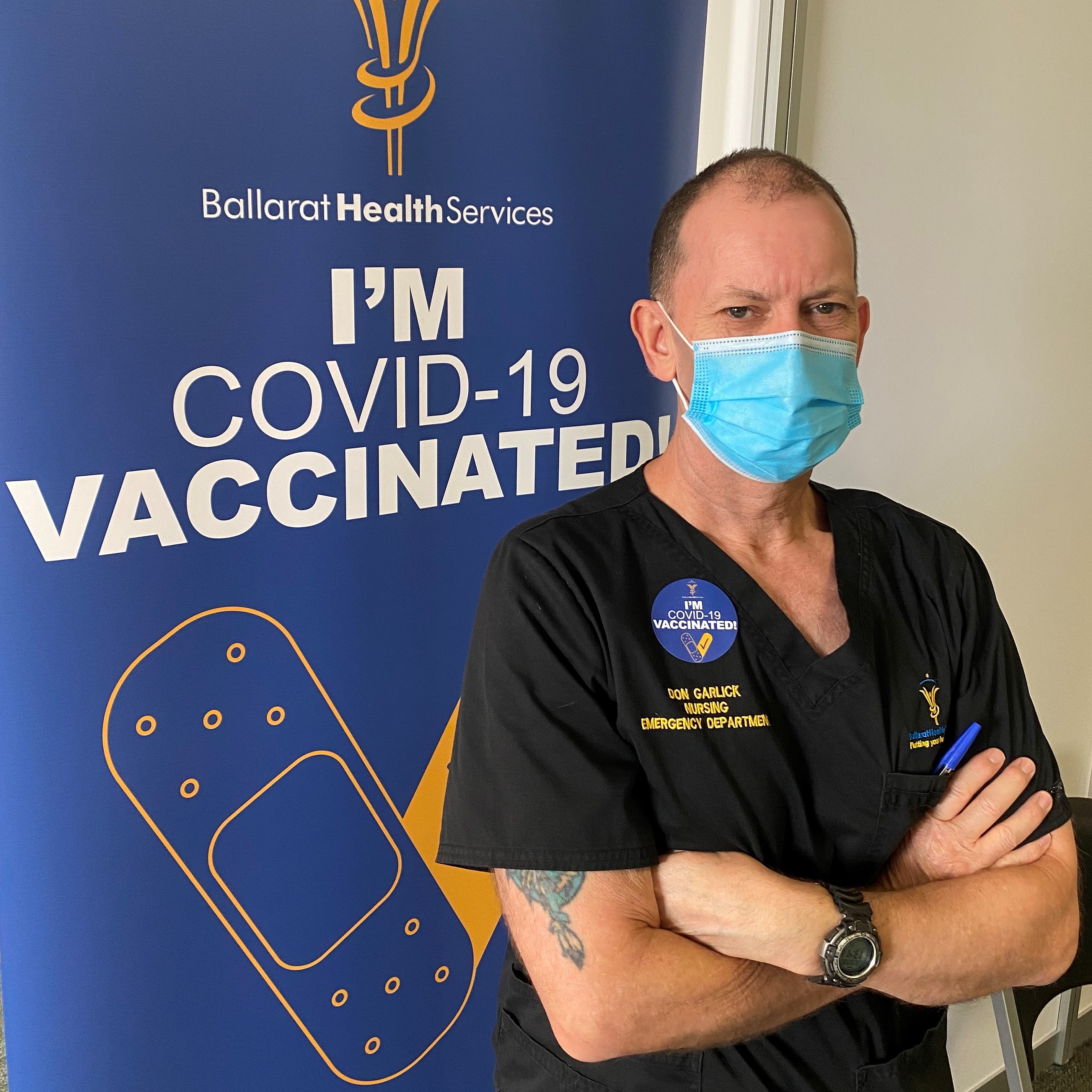 Ballarat Health Services commenced COVID-19 vaccinations in Ballarat on Monday 1 March. The Phase 1a health worker clinic (which opened on Tuesday 9 March and is located within the Base hospital) has vaccinated more than one thousand of 1,600 frontline staff to date.
Staff included under Phase 1a are those most likely to be exposed to COVID or SCOVID including BHS and St John of God Emergency Department, Intensive Care Unit and Residential Aged Care staff, and staff from the UFS COVID-19 screening clinic.
As a COVID-19 Vaccination Hub, BHS has also been assisting the Grampians region health services to prepare appropriate vaccination sites and has trained regional Nurse Immunisers in handling and administration of the COVID-19 vaccines.
BHS aged care residents who have chosen to be vaccinated have received their first dose, and Grampians region public aged care residents started receiving the vaccine on Wednesday 17 March.  These residents fall into the State government Phase 1a rollout. 
Grampians region frontline staff who fall into category Phase 1a are expected to start receiving the vaccine from next week. 
Mass vaccination clinic
BHS is working with the State government to determine an appropriate local site for a mass vaccination clinic.
Possible options have been identified however we are not in a position to comment on the options at this stage.
As soon as we are able to, we will publicise the location, when we expect to commence the next phase of vaccinations, and how people can make vaccination bookings.
Phase 1b
Under Ballarat Health Services, Phase 1b has not commenced in Ballarat or the Grampians region. 
On Wednesday the Commonwealth announced that some GPs will commence vaccination of those eligible under Phase 1b from next week.  The GP's participation in the vaccine program is invaluable. We have a large population to vaccinate and we recommend people do get vaccinated, when vaccine is available and when they are eligible for vaccination.  We currently have no virus in our community, but with winter approaching we know this may not last.     
You can find more information about the Australian Government vaccine program by visiting the Australian Government Department of Health website.
You can use the eligibility checker to find out when you can receive a COVID-19 vaccine, and to make bookings.
Depending on your eligibility you can either find a vaccine provider and book an appointment or register to receive an email or SMS when you are able to receive the COVID-19 vaccine.
AstraZeneca
BHS encourages the community to have confidence in the vaccination program and to have the vaccine when it is offered. 
With two doses of AstraZeneca spaced by 12 weeks, you are 80 percent less likely to get COVID-19 and more than 90 percent less likely to be hospitalised with COVID-19.
AstraZeneca has been approved by the Australian Therapeutic Goods Administration (TGA) for use in Australia for people aged 18 years and older.
The TGA has received no reports of blood clots following use of the AstraZeneca vaccine in Australia.  Of the 17 million people overseas who have received the AstraZeneca vaccine less than 40 people have developed a form of blood clot.
The Australian Therapeutic Goods Administrators (TGA) will only register a vaccine for use if its benefits are much greater than its risks. This means every vaccine available in Australia has been proven to protect against COVID-19.  The vaccines prevent development of COVID-19 symptoms and protect against severe disease.
The AstraZeneca vaccinations are ideally spaced by 12 weeks, and current evidence indicates when the two doses are given 12 weeks apart, it reduces risk of symptomatic COVID-19 infection by over 80 per cent.  One UK study shows that the AstraZeneca vaccine also reduced transmission by 67 per cent after a single dose.
More information about a vaccine's ability to stop the virus from spreading is being collected from countries already using them, such as the US, Israel, Canada and the United Kingdom, and early evidence is showing these vaccines can reduce transmission. Recent population data from the United Kingdom show both AstraZeneca and Pfizer vaccines are highly effective in preventing hospitalisation with COVID-19.